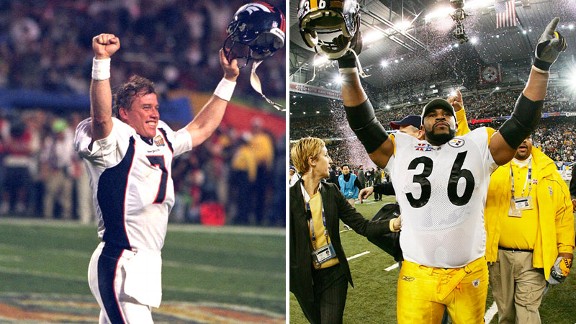 Getty Images
John Elway and Jerome Bettis are among those to cap their career with a championship.Ray Lewis says that Super Bowl XLVII will mark the end of his NFL career.
A number of players have played their final game on the sport's biggest stage, but not all have claimed victory on the way out.
Here are some of the game's greats who said farewell after the big game.
Otto Graham, 1955 Cleveland Browns
Graham's career pre-dated the Super Bowl, but we felt he merited mention here. Not only did Graham win NFL MVP honors in 1955, but he closed out his career with a 38-14 win in the NFL Championship game against the Los Angeles Rams.
Graham threw for two touchdowns, ran for two more, and survived a day in which he threw three interceptions.

GrahamGraham retired young, at age 34, having won seven NFL titles.
He actually won his pre-retirement game twice. Graham retired after the 1954 season, one in which he also led the Browns to a title, then came out of retirement in time for the start of the 1955 season.
Graham was out of football briefly, then returned to the sport as a head football coach and athletics director for the United States Coast Guard Academy, and a three-season stint with the Washington Redskins.
Mel Renfro, 1977 Dallas Cowboys
Renfro spent all 14 seasons of his career with the Cowboys, retiring after the 1977 campaign. Renfro was four seasons removed from his last selection to the Pro Bowl, but was still important to the Cowboys defensive success.
Renfro's final game would be Super Bowl XII against the Broncos. As he recalls in this article, he missed considerable time with a knee injury that season, but suited up and was part of a unit that held Broncos quarterbacks Craig Morton and Norris Weese to only 61 yards passing in a 27-10 win over the Denver Broncos at the Superdome.
Renfro was elected to the Pro Football Hall of Fame in 1996.
Jackie Smith, 1978 Cowboys
Smith had the worst possible ending to what was a terrific NFL career that spanned from 1963 to 1978 as a tight end. He would be inducted into the Pro Football Hall of Fame in 1994.
AP Photo
Jackie Smith had a great career, but is often remembered for this drop.
Smith's only Super Bowl appearance came in Super Bowl XIII with the Cowboys against the Pittsburgh Steelers. At this point in his career (age 38), he was no longer a primary target (he didn't have a catch all season). But the Cowboys looked his way trailing by a touchdown in the third quarter.
Smith was wide open in the end zone, but could not hang on to Roger Staubach's throw. Announcer Verne Lundquist would call Smith "the sickest man in America" as cameras showed him lamenting the drop. The Cowboys would end up with a field goal instead of a touchdown on the drive and lose the game, 35-31.
Smith isn't the only prominent player to lose in the Super Bowl in his final NFL game. Elias tells us that others include wide receivers Carroll Dale (who won two Super Bowls with the Green Bay Packers, but lost with the Minnesota Vikings), Cris Collinsworth (Cincinnati Bengals), Steve Watson (Denver Broncos) and running backs Bill Brown (Minnesota Vikings and John L. Williams (Steelers)
Russ Grimm, 1991 Washington Redskins and Gary Zimmerman, 1997 Denver Broncos
We list these two together, as they are two of the most prominent offensive linemen to go out as the ultimate winners. Grimm was a guard on four Super Bowl champs, the last of which was the Redskins team that beat the Buffalo Bills. Zimmerman was a Hall-of-Fame tackle for the Vikings and Broncos, whose only Super Bowl appearance was the last game of his career.
John Elway, 1998 Denver Broncos
Elway's career-ender is the standard-setter for the sport. He led the Denver Broncos to their second consecutive Super Bowl victory, this one a 34-19 win over the Atlanta Falcons in Super Bowl XXXIII, his final game.
Elway threw for 336 yards (his second-most ever in a postseason game) and a touchdown (an 80-yarder to Rod Smith), and ran for another score. It was his fifth start at quarterback in a Super Bowl, tied with Tom Brady for the most all-time.
Jerome Bettis, 2005 Pittsburgh Steelers
Bettis reached the end of his career as a valued member of the Steelers ground attack, though with a reduced role from what he'd seen in his younger days.
Bettis was actually talked into playing another season (somewhat similar to Graham) after planning to retire a year earlier.
Bettis had a rushing touchdown in each of three Steelers road playoff wins leading up to the Super Bowl.
In Super Bowl XL against the Seattle Seahawks, playing in his hometown of Detroit, Bettis had 14 carries for 43 yards as part of a ground game that gained 181 yards (93 by Willie Parker).
Michael Strahan, 2007 New York Giants
Strahan, a Hall of Fame finalist this year after 15 seasons in the NFL, finished his career in the best possible way, with the Giants' Super Bowl win over the New England Patriots.
Strahan had nine of his 141½ regular-season sacks that year, and his big contribution came via sack in that last contest.
With the Patriots leading 7-3 in the third quarter, Strahan sacked Tom Brady on a 3rd-and-7 from the Giants 25-yard line. The Patriots would not tack on to their lead on that drive, and the Giants would eventually rally for their 17-14 win.