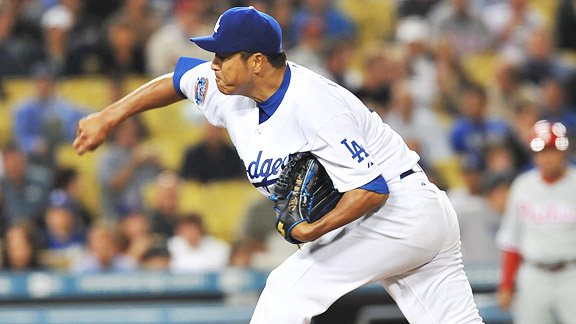 Jayne Oncea/Icon SMI
The Dodgers' Hiroki Kuroda took a no-hitter into the eighth inning in his last start.
Want a reason to watch the San Francisco Giants and Los Angeles Dodgers on Sunday Night Baseball at 8 ET on ESPN2?
How about the idea that you might get to watch some pitching history. People have been calling this season The Year of the Pitcher, but perhaps the year of the great pitching performance is more apt.
There have been 25 games this season in which a team managed no hits or one hit. According to the Elias Sports Bureau, that's one shy of the all-time major league record, set in 1988.
Most Games 0/1 Hits Allowed
Single Season
The kicker is that both starting pitchers tonight -- Jonathan Sanchez and Hiroki Kuroda -- have thrown one-hitters this season. Kuroda did it in his last start against a powerful Philadelphia Phillies lineup, taking a no-hitter into the eighth inning before settling for a shared one-hitter with Hong-Chih Kuo.
It's part of a stretch of nine starts in which Kuroda has held opponents to a .193 batting average and .520 OPS, yet somehow Kuroda is just 3-4 with a 2.56 ERA in that span. That's what happens when your team totals just 21 runs of support in those games.
Sanchez's one-hitter came in an odd situation -- a 1-0 loss to the San Diego Padres on April 20 in which he yielded just a Chase Headley single, but was done in when the lone run scored on a sacrifice fly. Sanchez already has a no-hitter to his credit against those same Padres last season.
If there is a one-hitter to be had tonight, it's more likely to be for the Dodgers than the Giants, for two reasons:
First, Sanchez is 0-5 with a 6.04 ERA against the Dodgers, the second-worst mark against them for any active pitcher (Jorge De La Rosa is 0-6). His ERA is the second worst of any Giants pitcher who has thrown 40+ innings against the Dodgers since the teams moved to California in 1958.
Second, the Giants haven't thrown a one-hitter against the Dodgers since 1973.
But Sanchez's .215 opponents batting average rates among the best in baseball, and the Dodgers offense rates among the most inept in the majors since the All-Star break. Perhaps the Giants are due.
Four other reasons to watch, with some help from our game researcher, Katie Sharp:
• Rafael Furcal is a Giants killer
He's hitting .324 against the Giants as a Dodger, third-best among anyone since the two teams moved westward in 1958.
Highest BA Since 1958
Dodger vs Giants
• The Dodgers like small ball
Los Angeles leads the National League in sacrifice bunts, and with the help of Baseball-Reference.com, we know the Dodgers lead in bases taken via fly balls, wild pitches, passed balls, balks and defensive indifference. They've also taken an extra base on 45 percent of the opportunities they've had, matching the Colorado Rockies and Cincinnati Reds as the most aggressive teams in the league.
• See an unknown star
If you're a fan of some of these new sabermetric statistics, you'll like Andres Torres, who, primarily on the strength of his defensive rating, is fourth in the NL in Wins Above Replacement. His "Ultimate Zone Rating" (a gauge of ability to turn hit balls into outs, avoid errors, and serve as a base-running deterrent) rates higher than any outfielder in the league.
• You're going to see a close one
Of the 14 games the teams have played this season, 11 have been decided by two runs or fewer, including the last seven.
We checked with the Elias Sports Bureau, which tells us this is the first time that the Giants and Dodgers have had a season in which they played seven straight games that were that close since 1928, and they have never played eight straight games in the same year, decided by two runs or fewer.
Maybe tonight's the night for some history.