Gregory Shamus/Getty Images
Trey Burke and Mitch McGary celebrate a 58-57 win over Michigan State
Michigan and Michigan State met as top-10 teams on Sunday for just the second time in history. The first time was earlier season, less than a month ago when the Spartans beat up on Big Blue, winning 75-52 in East Lansing.
In that game, Michigan State held the Wolverines to a season-low 52 points on 39.6 percent shooting. Michigan managed to score just 22 points in the paint, the team's second-lowest total on the season.
But Sunday was an entirely different story. Check out Michigan's shot chart from the 58-57 win: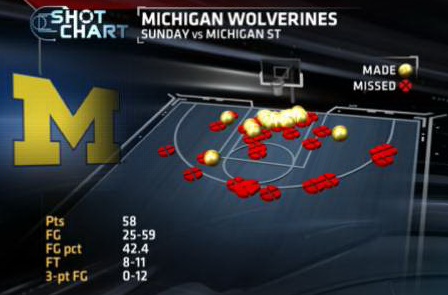 Winning without a three
Defeated Top-10 Opponent
Without 3-pt FG (since 1996-97)
That's right, the Wolverines managed to win despite shooting 0-12 from 3-point range. It had been a remarkable run for Michigan of 453 straight games with at least one made 3-pointer. The last time the team didn't make a shot from beyond the arc was a February 1999 loss to Northwestern.
But on Sunday, Michigan scraped by with a one-point win. The last time the school won a game without a 3-pointer was February 1, 1995 against Wisconsin.
Just how long ago was that?
• It had been 333 wins and 588 total games for Michigan since it last won a game without a made three.
• Two members of the Fab Five were on that Michigan team, Jimmy King and Ray Jackson. Jackson led the Wolverines with 22 points and Steve Fisher was still the school's head coach.
• Trey Burke, who had the steal and the winning basket Sunday, was 2½ years old when the 1995 game was played.
• And a funny aside - Ted Valentine, who was one of the officials for Sunday's game, was also an official for that 1995 game.
Getting it done in the paint
With that poor 3-point shooting, Michigan couldn't have won without doing a ton of damage in the paint. The Wolverines put up 44 points in the paint, tied for their most in any game over the last two seasons. It was also the most paint points Michigan State allowed in a game over the last two seasons.
All in all, 76 percent of Michigan's points came in the paint Sunday, the highest rate by any Big Six conference team in a single game over the last two seasons.
Big Blue have now scored at least 44 paint points three times in their last 15 games. Entering Sunday, Michigan was averaging 32.9 paint points per game during conference play, most in the Big Ten and tied for the fifth among Big Six conference teams.