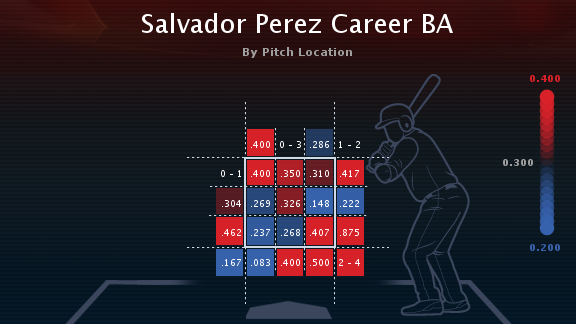 ESPN Stats & Information
Five stats to know about Kansas City Royals catcher Salvador Perez.
He can hit
Perez has played a little less than three-quarters of a season (115 total games) in the last two years, and his numbers rate very well.
His .310 batting average and .471 slugging percentage are a near-match for what Yadier Molina has done in the same span (albeit in more than twice as many at-bats).
He can hit anything
Perez is one of the game's best contact hitters. Last season, he put 55 percent of his swings in play, the fifth-highest rate among players with at least 250 plate appearances.
He was able to do this because he was very adept at hitting pitches outside the strike zone. Perez put half of his swings against those pitches into play, the highest rate in the majors.
All right vs lefties
Perez's contact numbers are even better against left-handed pitchers. In two seasons, he's hitting .393 with as many home runs as strikeouts (6) in 112 at-bats against lefties.
In the first 200 swings Perez has taken against left-handed pitching, he's missed only 10 times. That 5 percent miss rate is bettered over the last two seasons by only Jeff Keppinger.
A good glove
Perez has brought value on the defensive end. Last season, he finished with nine Defensive Runs Saved. Perez threw out 15 of 40 runners attempting to steal, the best rate among any American Leaguer who caught at least 50 games. His five pickoffs were the most of any catcher in baseball.
Lots of value
In his 115 games, Perez has been worth 4.2 Wins Above Replacement. The five other players who have caught games for the Royals in that two-year span have combined for 0.4 Wins Above Replacement.
Perez's 4.2 WAR is tied for 11th-best among catchers. It's the same total as Milwaukee Brewers catcher Jonathan Lucroy, but in half as many games.