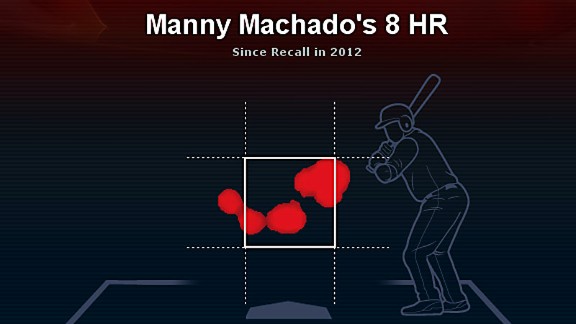 Manny Machado has hit four of his eight home runs on pitches up and in, including Wednesday's game winner.
On the day the Boston Red Sox's Fenway Park sellout streak ended, some of the good vibes from their start to 2013 came to a sudden, surprising halt as well.
The Baltimore Orioles won Wednesday in a manner similar to how they've been winning games since the start of last season (or as Red Sox fans might say, since the final game of the 2011 season).
Here are some quick takes on the notable stats from the Orioles' magical rally from two runs down with two outs in the ninth inning.
Machado comes up big
Perhaps this go-ahead ninth-inning home run is the cure for Manny Machado's early-season struggles.
Machado became the first player age 20 or younger to hit a go-ahead home run at Fenway Park since Andruw Jones for the 1997 Atlanta Braves.
The pitch against which Machado hit the home run was thrown to what has been a sweet spot for him -- up and in.
Four of Machado's eight career home runs now have come against pitches that were in the upper half and inner half of the strike zone, as noted in the image above.
The home run was the first hit Machado has had on the dozen fly balls he has hit this season.
Davis' homer-hitting barrage continues
Chris Davis set up Machado's big moment with a home run earlier in the ninth inning. The Elias Sports Bureau notes Davis is the first player in franchise history with five home runs in the team's first eight games of the season.
Not a good day for Joel Hanrahan
It's only April, but there are some early red flags for Red Sox closer Joel Hanrahan. He has faced 12 batters in the past two games and allowed three home runs, including the two in the ninth inning Friday.
Hanrahan allowed only one home run to the 274 batters he faced in 2011. But he now has allowed 11 to the 277 batters he's faced since the start of the 2012 season.
Bradley luster wearing off
Although Jackie Bradley Jr. impressed Red Sox fans in the first couple of days of the season, he's hit his first blip.
Bradley was 0-for-2 with a walk and a pair of weak groundouts. Bradley is hitless in his past 12 at-bats, dropping his batting average to .130. The past eight balls he has put into play all have been hit on the ground.