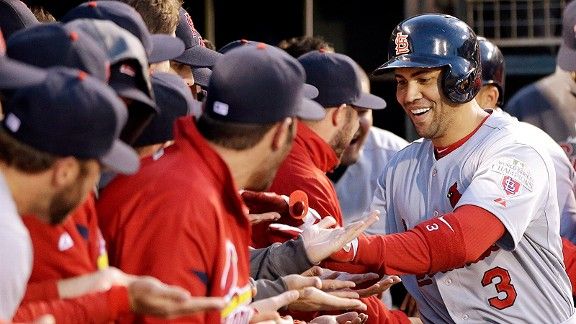 AP Photo/David J. Phillip
Carlos Beltran has been getting plenty of positive receptions from teammates recently.
Five stats you'll likely hear quite a bit more about on tonight's telecast of the St. Louis Cardinals-Philadelphia Phillies game at 8 p.m. ET on ESPN.
1-- Expect to hear a lot of pontificating from Orel Hershiser on the art of getting the ground ball. Both of Sunday's starters ranked in the top 10 in the majors in number of sinkers thrown last season.
2-- Jake Westbrook (99-96) is going for his 100th career win. He'd be the 26th active pitcher with 100 or more. Westbrook hasn't allowed an earned run in his first 15 2/3 innings.
Only three Cardinals pitchers in the last 50 years have had a streak of 20 innings without allowing an earned run to start a season- Al Jackson (22 in 1966), Woody Williams (24 2/3 in 2003) and Chris Carpenter (24 in 2009).
3-- Phillies starter Kyle Kendrick averages only 4.68 strikeouts per 9 innings. Entering Sunday that ranked second-lowest among active pitchers with at least 500 innings pitched. But Kendrick has become more of a strikeout pitcher the last two seasons, averaging 6.5 whiffs per 9.
4-- Carlos Beltran has hit a home run in three straight games for the first time since July 19-21, 2007. He last did so in four straight games in August 2004 when he actually had a home run in five straight games from Aug. 23-27.
Beltran has passed a number of interesting names on baseball's all-time home run list recently. He's currently tied for 95th with Don Baylor and Mark Teixeira (338 homers). His next longball will tie him with the trio of Tino Martinez, Dave Parker, and Boog Powell.
5-- Phillies hitters have shown an overwhelming penchant for swinging the bat recently. On Friday, they snapped a streak of 137 straight plate appearances without receiving a walk. The Phillies are averaging 16.5 plate appearances per walk, the second-worst rate in the NL, trailing the Chicago Cubs (17.2).
The Phillies are coming off of their worst offensive season in 15 years. In 2012 they averaged 4.2 runs per game, the team's lowest total since averaging 4.1 per game in 1997. This season, the team is averaging 3.8 runs per game.