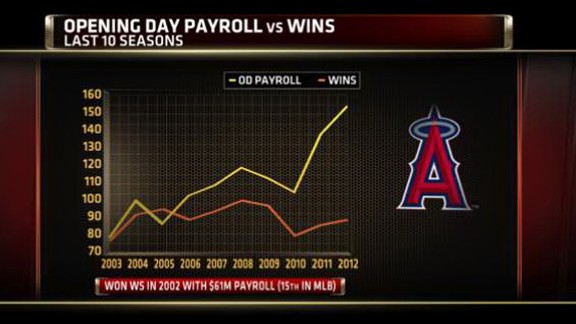 ESPN Stats & Information
More payroll hasn't translated to more wins for the Angels.One year ago today, May 8, Josh Hamilton went 5-for-5 with four home runs and eight RBI against the Baltimore Orioles.
That seems like a long time ago, especially considering Hamilton's early-season struggles with the Los Angeles Angels.
So, the one-year anniversary seems like an opportune time to revisit Hamilton specifically and the struggles of the Angels as a whole.
Josh Hamilton Since Start of 2012
This time a year ago, Hamilton seemed to be well on his way to his second American League MVP award. However, last June Hamilton went into a tailspin that not only hasn't stopped, but it's getting progressively worse.
Baseball Tonight analyst Aaron Boone brought up a good point last week: Hamilton is becoming increasingly more aggressive and it's having a detrimental effect on his production.
The rate at which he's chasing pitches out of the strike zone has increased in each of the last four seasons: 35 percent in 2010; 37.5 percent in 2011; and north of 42 percent in both 2012 and 2013.
It would be one thing if Hamilton was effective at hitting pitches out of the zone, but that's no longer the case (see second chart).
In addition, there's a huge chasm in Hamilton's approach and his success with it. No player swings at the first pitch more often than Hamilton (51.4 percent), yet his performance in 0-0 counts (.280) is well below the league average (.357).
Josh Hamilton Last 4 Seasons
Pitches Outside The Strike Zone
The result thus far in 2013? Hamilton has been among the least productive position players this season. His Wins Above Replacement (WAR) is -1.0, tied for the third worst this season among position players.
As for the Angels, they have shown a willingness to spend money on high-profile free agents; however, the increase in payroll has not led to a better product on the field.
With the exception of pitcher Jered Weaver, the Angels' spending hasn't been to lock up homegrown players but to acquire high-profile free agents.
In the last two offseasons, the Angels have committed $480 million to free agents, $152 million more than the next closest team, the Detroit Tigers ($328 million). More than $440 million of that went to Hamilton, Albert Pujols and C.J. Wilson. And all three players have been showing signs of decline.
In 2010, Hamilton, Pujols and Wilson combined for a 20.8 WAR. Last season it was 9.4, and so far in 2013 their combined WAR is -0.8.