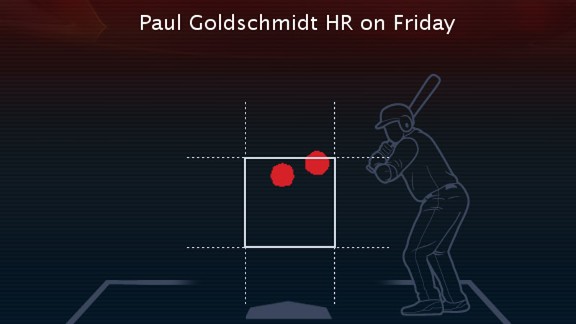 If a pitcher decides to pitch the Arizona Diamondbacks' Paul Goldschmidt up in the strike zone, he's doing so at a high risk.
The image above shows the two pitches on which Goldschmidt homered on Friday. The image at the bottom of this story shows the pitches on which Goldschmidt has hit his dozen home runs this season.
Paul Goldschmidt
2013 Season
Goldschmidt's recent hot streak has been fueled by the ability to drill pitches thrown to the spots in the upper half of the zone and above.
Consider this stat:
Since May 6, Goldschmidt has taken 51 swings against pitches thrown to that area.
He's swung-and-missed seven times.
He's hit six home runs.
For the season, Goldschmidt is hitting .405 with a major league-best 10 home runs when at-bats end in those pitches.
Those 10 homers are only one shy of the total number of upper-half (or above) home runs he had last season … on 625 fewer pitches.
Goldschmidt has shown a propensity to be more selective against those pitches this season. His "chase rate" against what we would call "up, but out of the strike zone" pitches this season is 27 percent.
Paul Goldschmidt
vs Upper Half + Out of Zone
Last season, he had a chase rate of 37 percent against those pitches.
But even when he goes after a bad pitch, he's still having success. Goldschmidt doubled on an "up but out of the zone" pitch on Friday, his eighth such hit and fifth for extra bases this season.
The chart on the right shows how stark the difference is in his performance compared with 2012.
Last season, he totaled five extra-base hits against those pitches.