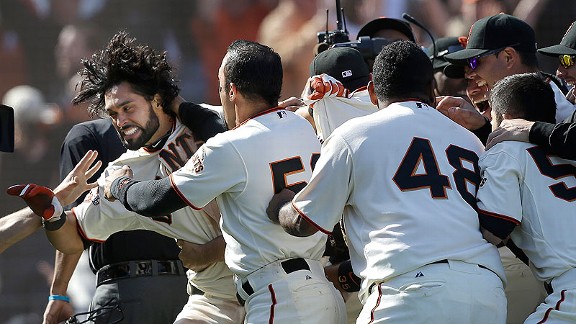 AP Photo/Jeff Chiu
Angel Pagan had a good end to his day on Saturday.
Friend of Stats & Information Tim Kurkjian always likes to tell us that the best thing about watching baseball is that every day you have the potential to see something new.
On Saturday, you may have seen something you'd never seen before with Angel Pagan's walk-off inside-the-park home run against the Colorado Rockies.
Did You Know?
The Elias Sports Bureau notes that if you were a Giants fan, you hadn't seen a walk-off inside-the-park home run since Bill Terry hit one in 1931.
But if you were a baseball fan, you might have seen one of these before.
Here's a look at the other walk-off inside-the-park homers in the majors in the last 20 seasons, with the help of media reports and newspaper stories from those games.
Rey Sanchez, 2004 Tampa Bay Devil Rays
The last walk-off inside-the-park homer also came against the Colorado Rockies on June 11, 2004. Sanchez hit a soft liner to shallow right on which Jeromy Burnitz tried and failed to make a shoestring catch. When Choo Freeman's throw into the infield was offline, Sanchez didn't just score … he scored standing up.
The homer was Sanchez' first in more than two years. He would only hit one more in his major-league career, which ended the following season.
Ken Griffey Jr 2001 Cincinnati Reds
The Cincinnati Reds entered their Aug 20 meeting with the Cardinals with an 11-game winning streak, their best since 1982. It looked like they would extend the streak to a dozen games, but they blew leads in the ninth and 10th innings.
Griffey Jr. then ended things with a walk-off homer in the 11th, capping a game that Hall-of-Fame honored writer Hal McCoy wrote was ugly enough that "Baseball Tonight was planning a miniseries on the foul-ups in this one" due to a series of botched plays and weird calls.
The final botch came on Griffey's hit, which was a drive to the fence in left center field that Jim Edmonds couldn't catch. When the ball hit Edmonds' foot and rolled away, Griffey was able to race all the way around the bases.
Bobby Abreu, 2000 Philadelphia Phillies
On August 27, 2000, Abreu accounted for both of the Phillies runs in a 2-1 win over the San Francisco Giants. The first run came via the traditional sort of home run, one that tied the game in the sixth inning against San Francisco Giants starter Mark Gardner.
The second came in a less traditional form, on a fly ball to center that was almost caught by Giants centerfielder Calvin Murray, but then rolled away.
Abreu would circle the bases and score on a close play with the help of Baseball Tonight's Doug Glanville.
"I directed him which way to slide—If I remember right, he did his classic pop-up slide to make it look pretty" Glanville said with a laugh prior to Saturday's Baseball Tonight. "We were saying tonight 'I don't know if I've seen that before.' But I have."
Marquis Grissom, 1994 Montreal Expos
This victory on August 1 was a memorable win for the best Expos team, the one that never got a chance to prove itself in postseason play. Grissom's walk-off inside-the-park homer came in Olympic Stadium. This one was on a ball that centerfielder Gerald Young tried to catch, then bobbled after the fact. The attempt to throw Grissom out was hampered by a hesitation before throwing from second baseman Geronimo Pena
"Everybody wants to get on ESPN at night, but this isn't the way I wanted it," Young told reporters that night.
This would be part of a 20-3 stretch for the Expos. Their season would end a little less than two weeks later when the players went on strike and owners eventually canceled the World Series.