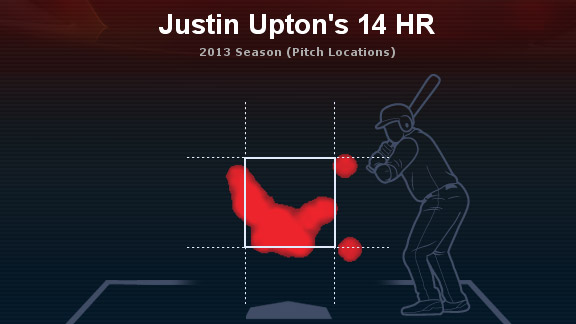 Justin Upton has been able to crush these pitches so far in 2013.Five stats you'll likely hear quite a bit more about on tonight's "Sunday Night Baseball" matchup between the Atlanta Braves and New York Mets at 8 p.m. ET on ESPN.
1-- Justin Upton's 14 home runs have averaged 427.4 feet in length, the longest in the majors (among batters with multiple home runs). Upton has been able to hit for power in two-strike counts. He leads the majors with seven two-strike home runs. Those seven have averaged 422 feet in length.
2-- Braves starter Julio Teheran, the second-youngest starting pitcher in the majors, has pitched well recently. After posting a 7.31 ERA in his first three starts, he has a 2.41 ERA in his past five starts.
Julio Teheran, 2013 Season
A righty, Teheran has fared better against left-handed hitting during this stretch. In his first three starts, lefties hit .433 with four home runs and five walks against him. In the last five, those numbers are down to a .288 batting average, no home runs, and one walk.
A key to getting Teheran is to get to him early. Opponents are hitting .366 in the first three innings and .219 after.
3-- The Mets are stumbling, with a 7-20 mark since a 10-9 start. The team's offense has been a major culprit. The Mets have tried five hitters in the leadoff spot, and they've combined for a .267 on-base percentage and .543 OPS, both worst in the NL.
Their 4-5 combo is hitting .184 with a .249 on-base percentage and .579 OPS. All three of those stats rank worst in the NL, as well.
4-- The Mets' lone offensive star, David Wright, is off to a good start this season, just not at Citi Field. Wright is hitting .230 with a .310 slugging percentage and no home runs at home this season. He's at .359 with a .667 slugging percentage and six home runs on the road.
Wright isn't the only Mets player with such issues. Teammate Daniel Murphy, the Mets' second-best hitter this season, is hitting .237 at home and .386 on the road.
5-- From the Did You Know obscurity files: The Braves have three of the top six hitters in major league history when it comes to ranking home run hitters whose last name starts with the letter "U."
Dan Uggla leads the list with 218, 12 more than Chase Utley had entering Sunday. Each of the Upton brothers (Justin and B.J.) ranks tied for fifth with 122.
In the series opener, Uggla added to his ledger with a home run and the game-winning hit in extra innings.