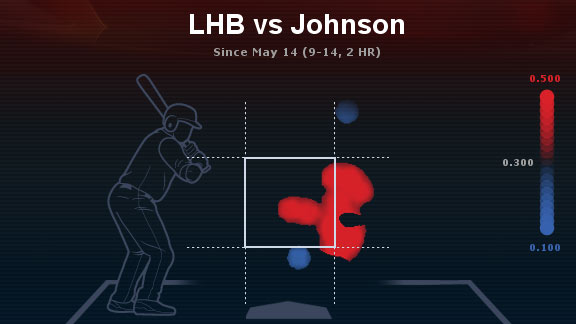 Lefties are hammering Jim Johnson recently.
For the second straight day, one of the dominant AL East closers in 2012 blew a multi-run lead in his team's defeat.
In each case, this is part of a trend.
Baltimore Orioles closer Jim Johnson recorded his fourth blown save in his last six appearances, blowing a three run lead in a loss to the Toronto Blue Jays on Sunday. Johnson was unable to finish Blue Jays hitters off. Of the six against whom he got to two strikes, he only retired one.
Tampa Bay Rays closer Fernando Rodney has now blown five saves this season—- three more than he blew in all of 2012. His most recent blown save came in a loss to the New York Yankees on Saturday.
Let's dig into the numbers and see what the issues are for each guy.
Jim Johnson
One of the common threads in Johnson's struggles is that he's gotten beaten up by left-handed hitters. When Johnson was going well, lefties had a hard time touching him. They had a .581 OPS against him in 2012.
LHB vs Jim Johnson
They are 9-for-14 with two walks against him in the last six appearances.
The success that Johnson has had when he's worked on and off the outside corner has disappeared over the last two weeks.
Johnson allowed a go-ahead ninth-inning hit to Everth Cabrera of the San Diego Padres on a pitch on the outside corner on May 14, gave up a go-ahead two-run double to Matt Joyce of the Tampa Bay Rays on a pitch in that area on May 18, gave up a game-tying homer to Travis Hafner and the Yankees on a pitch that was just off the outside corner on May 20, then gave up three hits on outer-edge pitches in Sunday's defeat.
From the start of last season to the time just prior to when this slump began, Johnson averaged about 2.8 batters retired for every hit/walk he allowed with a pitch over the outer-third of the plate or off the outside corner.
But in this trouble period, Johnson has allowed 11 hits/walks with pitches to that area and retired only six batters.
Fernando Rodney
Rodney was great last season in his first year with the Rays, and seemed to eliminate the wildness that would plague him from time to time with the Detroit Tigers and Los Angeles Angels.
Rodney has already surpassed his 2012 totals in both walks and extra-base hits allowed, going from 15 to 18 in the former and four to nine in the latter.
Fernando Rodney in 3-2 Counts
Hitters have not been as quick to chase when Rodney has thrown his fastball out of the zone.
He netted a 29 percent "chase rate" with the pitch in 2012, but has only gotten 20 chases on 115 out-of-zone fastballs this season (a chase rate of about 17 percent).
Rodney's issues getting hitters to chase have been an issue with both his fastball and his changeup, though the difference isn't as dramatic with the latter.
This has come into play in particular on 3-2 counts.
In a May 16 blown save to the Red Sox, Rodney went to 3-2 on three hitters and walked all three, before allowing a go-ahead three-run double to Will Middlebrooks.
In Saturday's blown save vs the Yankees, he had a two-run lead with two outs and a 3-2 count on Lyle Overbay, but walked him and the Yankees eventually rallied to tie.
When Rodney has been in the strike zone with his pitches, he's been hittable. J.P Arencibia and Jose Bautista have each taken 97-plus mph fastballs in the zone out of the park this season in Rodney blown saves.
Last season, Rodney allowed only one homer on a pitch of 97 mph or faster that was in the strike zone.
Turning a strength into a weakness
The results of the slumps by the two pitchers have turned 2012 strengths into 2013 weaknesses. Both the Orioles and Rays have significantly higher bullpen ERAs and have found closing out games to be a major issue.
The Orioles lead the majors with 12 blown saves. The Rays, who only blew eight save chances last season, are not far behind with nine, and entered Sunday night with a major-league worst 4.96 bullpen ERA.
Justin Havens contributed to this post.