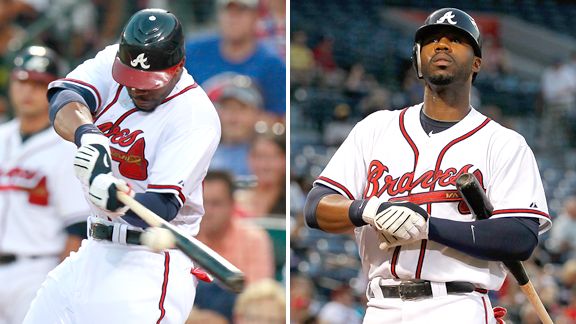 Getty Images
Jason Heyward's ability both to drive the ball and to take a walk have led to an on-base percentage that few his age have been able to achieve.
Albert Pujols' Triple Crown hopes seem rather grim at this stage after a recent slump dropped him far off the batting average lead.
But there's another chase with some historical appeal in ESPN's Sunday Night Baseball game -- Jason Heyward's attempt to join the .400 club.
Even though the Atlanta Braves rightfielder turned 21 a month ago, for statistical purposes, websites such as Baseball-Reference.com and baseball historians still treat this as his "age 20 season."
Highest OBP Since 1900
"Age 20 or Younger Season"
With that in mind, there is one list regarding performance in an "age 20 or younger season" that rates the most elite: The group of players who have had the top 10 seasons in terms of on-base percentage in the modern era (since 1900), among those who played enough to qualify for the batting title.
The list is in the chart to your right. It features nine Hall of Famers and Alex Rodriguez.
Do any other sort of list of "age 20" performance and it's filled with great names. But on-base percentage is tops in being most inclusive of the game's all-time greats.
Heyward is poised not only to join that list, but to land in the uppermost levels -- with the five major leaguers who have managed an on-base percentage of .400 at that age.
After Heyward's home run and two walks in six plate appearances in the Braves extra-inning win over the Cardinals on Saturday, his on-base percentage now stands at .395.
One of the key reasons for that is Heyward's walk rate, something that Baseball Tonight's analysts said when the season started would be a key indicator of his success.
Heyward is currently drawing unintentional walks a little more than 13 percent of the time, or about once every seven to eight times he comes to bat. That's an astounding rate, one only surpassed twice since 1900 -- by baseball legends Mel Ott and Ted Williams.
Heyward has spent much of the latter part of the season beefing up his statistical case for NL Rookie of the Year honors, for which he's battling the likes of San Francisco Giants catcher/first baseman Buster Posey.
Since the All-Star Break, Heyward's on-base percentage is an NL-best .432. Since Aug. 21, it's significantly better than that -- .520. Yes, in his last 100 plate appearances, Heyward has reached base 52 times. A 3-of-6 on Saturday actually brought that number down a tick.
In June, Heyward hit just .190 and got into a habit of chasing both fastballs and breaking balls out of the strike zone, regardless of whether they came from a lefty or righty. That bad habit has been totally eradicated.
His performance against lefthanders has been statistically above-average by major league standards (an on-base percentage of .344, 32 points above the MLB average for lefties), impressive considering his age. That's mainly been due to his ability to hang in at a reasonable statistical rate against breaking pitches. And nowadays, when Heyward sees a fastball he mauls it.
Here's how good Heyward has been: Entering Saturday, our Inside Edge video tracking service charted him as having seen 134 fastballs in September. He had 12 base hits on those pitches, and had only swung and missed once. Thus, no one should have been surprised when he homered off a fastball from Cardinals lefty Dennys Reyes to tie the game in the seventh inning.
Kyle Lohse and his 7.13 ERA have the good fortune of facing Heyward Sunday night. The first time they met, on April 26, Lohse got him out all three times. That was against a Heyward who was 19 games into his big league career, and in the midst of a seven-game stretch in which he went 1-for-20. This version of Heyward is far removed and far improved from that one.