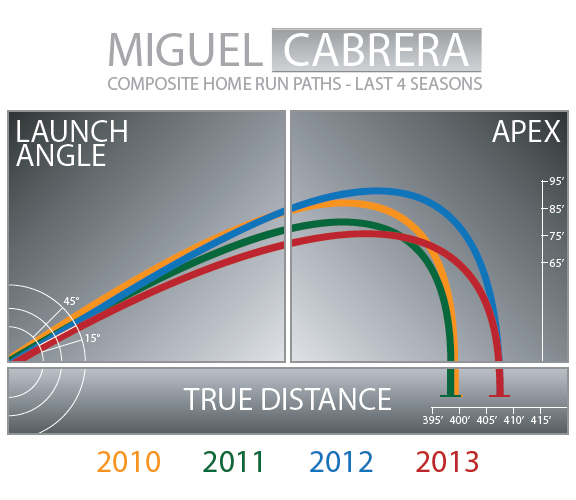 Miguel Cabrera's home runs still are of great length, but not great height.
Miguel Cabrera is hitting a line drive on 25 percent of the balls he has put in play this year, his highest percentage in the past four seasons. His home runs this season have followed that trend, and because he is hitting them on a line more often, he is less susceptible to impact from the wind.
In 2012, the wind added an average of 3.6 feet to Cabrera's 44 home runs. Only one other player with more than 20 home runs was helped by the wind more (Matt Kemp, 4.2 feet). Four of those 44 home runs would not have gone over the fence without favorable wind conditions, tied with Asdrubal Cabrera for the most wind-aided home runs in the American League.
Josh Hamilton, who finished second in the AL last year with 43 home runs, had no wind-aided home runs. If any two of Cabrera's four "lucky" home runs had been hit on a day when the wind wasn't blowing in his favor, he would have lost the Triple Crown.
This season, Cabrera's only assisted home run was not thanks to the wind but to Michael Bourn, who knocked the ball over the fence trying to catch it on May 22.
Cabrera's 25.2-degree elevation angle is the lowest this season among players with more than 10 home runs. The combined true distance of his home runs this year is 6,104 feet.
In the past eight years, only four players have hit home runs that far while hitting them as low as Cabrera is hitting them this season.
In a game against the Rangers, Cabrera hit three home runs, all of which traveled at least 420 feet. Alex Rodriguez is the only other player in the past eight seasons to hit at least three home runs of 420 feet or longer in the same game (he did it on Aug. 14, 2010, against the Royals).
Longest HR of the month
Longest Average HR Distance This Season (in feet)
The longest home run hit in May (with one day remaining) was hit 472 feet by Mike Napoli on May 1 at the Rogers Centre. The second-longest homer of the month (467 feet) was also by Napoli -- in the same game three innings later. They are the two longest home runs of his career.
Napoli is the only player with three home runs of at least 460 feet this season. They are noted in the illustration below.
His average home run travels 425.6 feet, third best among players with at least five home runs this season and 28.6 feet farther than the MLB average.
Napoli and Colby Rasmus are the only two players with multiple home runs of at least 465 feet this season -- all four of those homers were hit at Rogers Centre in Toronto.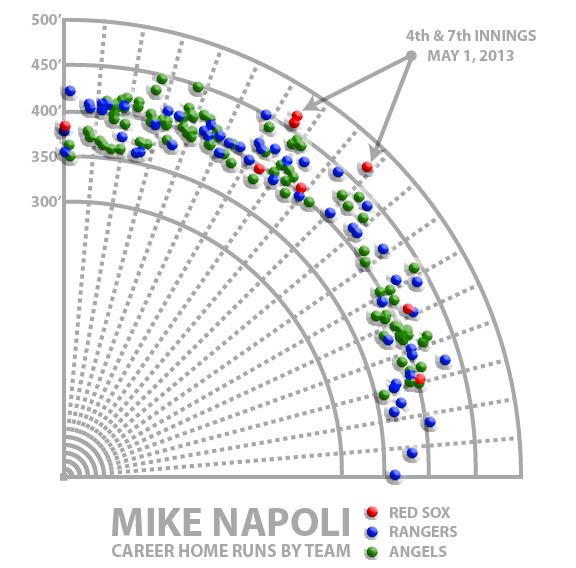 Trevor Ebaugh, Mike Bonzagni and Tobin Petipas contributed to this post.