Elsa/Getty Images
Carlos Santana (left, wearing mask) leads the Indians against Robinson Cano and the Yankees.
Carlos Santana By Pitch Location
This Season
Cleveland Indians catcher Carlos Santana and New York Yankees second baseman Robinson Cano are 11th and 12th in the American League, respectively, in OPS this season.
Their teams square off on Monday Night Baseball (ESPN, 7 ET).
They've both had success on pitches up in the zone but in different ways. Santana is hitting 140 points higher with an OPS that is almost 340 points higher on pitchers in the upper half of the strike zone.
He's also taken advantage of being ahead in the count, hitting .553 with a 1.749 OPS in hitters' counts (1-0, 2-0, 3-0, 2-1, 3-1) this season (.178/.420 in pitchers' counts). His OBP of .696 when he's ahead in the count leads all American League hitters.
Robinson Cano This Season
By Spot in Batting Order
Cano's batting average and OPS are higher against pitches in the upper half, but he gets most of his power against pitches in the lower half of the strike zone, where he's hit 11 of his 14 home runs this season.
Take a look at his hot zones at the bottom of the page to see the difference.
He's gone back and forth this season between the 2-hole and the 3-hole in the lineup, but he's clearly been better hitting second, as you can see in the chart on the right.
Mastering the slider
Indians starter Justin Masterson is holding opponents to an .063 batting average against his slider, the lowest against any starting pitcher with at least 100 sliders thrown this season.
The league-average starting pitcher gets a whiff on 31 percent of swings against sliders. Masterson gets whiffs on 43 percent of swings against his slider, and his 48 strikeouts with the pitch are the third-most in the majors.
Justin Masterson Avg Velocity This Season
When he throws it at least 83 MPH, opponents are hitting just .030 with a .114 OPS. Those numbers are .231 and .795 against sliders below 83 MPH.
And he has the ability to ramp up the velocity -- on both his slider and his fastball -- as he gets closer to a strikeout.
Did you know?
• Yankees starter Andy Pettitte is one win away from 250 for his career. He would be the 47th pitcher to reach the 250 win plateau. According to the Elias Sports Bureau, 23 pitchers have earned their 250th career win in the past 70 years, but only five had fewer losses at the time of their 250th win than Pettitte entering tonight: Randy Johnson, Roger Clemens, Greg Maddux, Jim Palmer and Tom Seaver.
Rivera• Mariano Rivera hasn't walked an Indians batter since July 14, 2002. That was arguably his worst career outing, when he gave up six runs (his most as a reliever) on five hits in 2/3 of an inning, blowing the save in dramatic fashion when Bill Selby hit a walk-off home run against him.
• Rivera has gone 24 straight games against the Indians without walking a batter, which is tied with the Royals for his longest active streak against any team. The longest walk-less streak in his career is against the Blue Jays, a 30-game streak from 2006-10.
• Rivera has a 3.16 ERA at Progressive Field, his second-highest at any AL ballpark, behind Angel Stadium (3.26).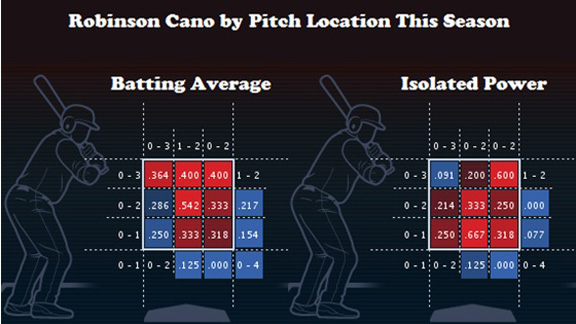 Robinson Cano is hitting pitches up in the zone for a high average, but his power is coming against pitches in the lower half.