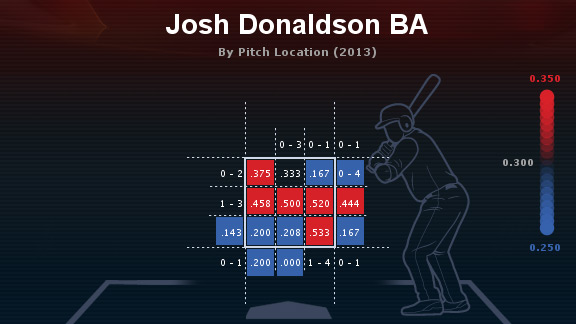 Josh Donaldson has owned one the middle-third of the strike zone.Last year it was Josh Reddick who came out of nowhere to have a huge season for the Oakland Athletics.
This year, it's Josh Donaldson's turn.
Donaldson's grand slam (and Reddick's game-saving catch in the ninth inning) helped the Athletics to another narrow win on Friday night, this one over the Chicago White Sox.
Donaldson's grand slam was significant for the Athletics on a number of statistical fronts. For one, it gave him as many home runs (9) as he had last season, but with a batting average 88 points higher than 2012's .241.
Entering Friday, the A's had the most bases-loaded plate appearances of any team (88), but did not have a home run to show for it.
Donaldson's was the first this season and the first by a member of the Athletics against the White Sox since Jason Giambi hit one in 2001.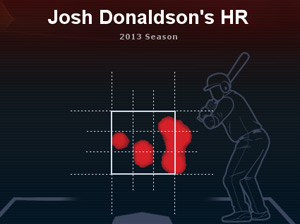 Josh Donaldson's HR are usually vs. inside pitches.It also was a different kind of home run for Donaldson.
Take a look at the image of Donaldson's home runs this season.
This homer was the one closest to the outside edge, the first all year for Donaldson on a pitch on the outer-third of the plate (or off the corner).
That's not to say that Donaldson can't hit that pitch.
In fact, as you can see in the heat map atop this article, he hits everything thrown to those middle three squares in the grid (the middle-third of the strike zone, height-wise).
Combine the numbers in those three middle squares and they come out to a .487 batting average and 39 hits. That's one point shy of the best batting average and one hit shy of the most hits in the majors on pitches specifically to that area.
The guy in front of Donaldson in both happens to be a pretty good player – Tigers slugger Miguel Cabrera (Manny Machado also has 40 hits on those pitches).
Looking ahead
The most interesting thing for Donaldson moving forward won't necessarily be what happens when he hits the ball in the air, but what happens when he hits the ball on the ground.
Donaldson is 30-for-89 when he hits the ball on the ground this season, which partly explains his .329 batting average.
Prior to this season, he was a meager 14-for-96 when hitting a ground ball.