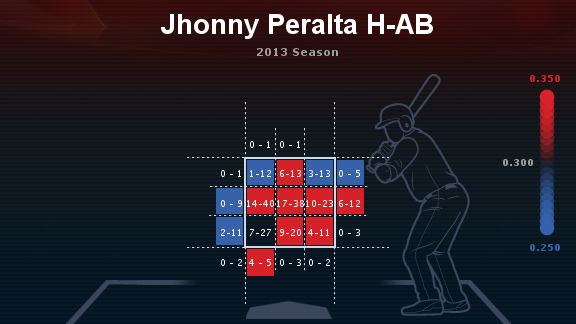 Jhonny Peralta has done a lot of damage within the strike zone this season.
Jhonny Peralta's amazing season continued on Thursday night with a walk-off home run against Red Sox closer Andrew Bailey.
Miguel Cabrera has been consistently great, but it's his left-side infield mate who has joined him in the offensive barrage.
What has been the key to Peralta's success?
Punishing Mistakes
Peralta's home run came on a hanging slider. Our video-review data marked that as Peralta's 19th hit this season against a breaking pitch located in the strike zone.
He totaled 18 such hits last season.
That's been a theme for Peralta all season. He's hitting .398 against fastballs thrown over the plate, 130 points higher than what he hit against them last season.
Power vs Right-Handers
Peralta has re-found his power stroke against right-handed pitching. He had seven homers in 377 at-bats against righties last season, but now already has six in 2013.
Everything falling right
Peralta makes for an interesting statistical study in that he's missed on his swings more often than last season, but is hitting 90 points higher than he did in 2012.
Our data on hard-hit balls shows a near-match in the frequency of those in 2013 as compared to 2012.
But things have broken right for Peralta, particularly when it comes to hitting line drives. We've noted that in the chart on the right.
Did You Know?
Peralta has a walk-off home run with his team trailing in each of the last two seasons.
The only other player to have multiple walk-off homers with his team trailing since the start of last season is Freddie Freeman of the Atlanta Braves, who had such a homer against the New York Mets earlier this week.