The Arizona Diamondbacks look to snap a season-high five-game losing streak when they face the New York Mets on Wednesday Night Baseball (7 ET on ESPN/WatchESPN). The big matchup at Citi Field is between Mets' ace Matt Harvey and Diamondbacks' young slugger Paul Goldschmidt.
Less than two weeks from the All-Star game, Harvey is one of the favorites to start for the NL while Goldschmidt's first half has also made him deserving of an All-Star starting spot.
Last season, Harvey made his MLB debut July 26 in Arizona. He set a Mets record for strikeouts in a debut with 11, including fanning Goldschmidt all three times he faced him, twice looking on fastballs away and once swinging on a heater high and tight.
Harvey likes to work up in the zone, where he's been extremely effective. He has thrown 38 percent of his pitches this season in the upper-third or above the strike zone. That's the second-highest rate in the NL, behind only Barry Zito. On such pitches, he has limited opponents to a .475 OPS.
But Goldschmidt has been the best high-ball hitter in the NL this season. His OPS on such pitches is 1.185, nearly 100 points higher than the next hitter. He also leads the circuit with nine home runs and a .367 batting average on pitches up or above the strike zone.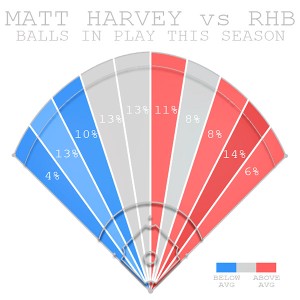 ESPN Stats & Information
Harvey's fastball this season has averaged 95.6 miles per hour. That's the fastest among starters who qualify for the ERA title. And he's held opponents to a .192 average on at-bats ending with a fastball.
Thanks to that heater, Harvey has been one of the toughest pitchers in baseball for right-handed batters to pull the ball against this season as shown on the image to the right.
Why is that important? The league slugs .635 when pulling the ball as opposed to a .453 mark when going the other way.
Goldschmidt hasn't been a slouch against fast pitches. He has nine hits this season off pitches thrown at least 95 miles per hour, tied for fourth-most in the National League.
Comparison of Possible NL All-Star 1B
Goldschmidt's All-Star Case
The Diamondbacks' first baseman is second in NL All-Star voting, trailing Joey Votto by more than half a million votes.
But considering traditional and advanced statistics, Goldschmidt has had a better season. He has driven in 30 more runs than Votto, and leads the NL in Win Probability Added.
Quick Hits
• Arizona has dropped 10 of its last 11 road games and seven of its last eight at Citi Field.
• No Diamondbacks' starter has recorded a win since Wade Miley on June 5; every other team in the majors has had at least four wins from its starters in that span.
• The Mets have six wins when trailing after eight innings, the most in the majors.