Hisashi Iwakuma gets the start for the Seattle Mariners' tonight against the Boston Red Sox.
Overshadowed in his own rotation by Felix Hernandez, it is Iwakuma that has the American League's best ERA at 2.60 and leads all qualified starters with a 0.88 WHIP. These numbers were enough to get him selected to the All-Star Game in just his second season since coming over from Japan.
Splitting the difference
A big reason for Iwakuma's success is his control over a devastating splitter. This season opponents are hitting .183 against the pitch -– the fifth lowest among starters who have thrown at least 100 splitters.
In 131 at-bats ending in an Iwakuma splitter, hitters have struck out 47 times and hit a ground ball 61 times. That means just 23 of 131 (18 percent) of hitters were able to elevate the pitch.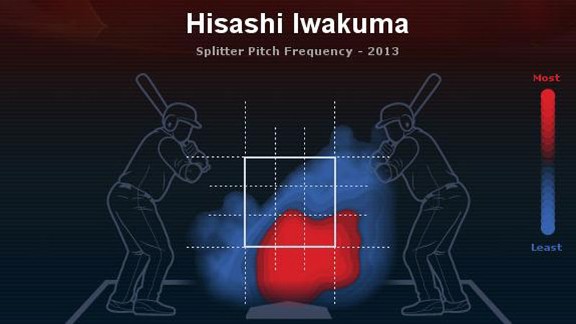 ESPN Stats & Information
Iwakuma has kept the majority of his splitters down in the strike zone or below it. The pitch has been most effective when he is able to start it at the bottom of the strike zone and allow the pitch's break to take it out of the zone by the time it crosses the plate.
This season hitters have combined to go 3-for-55 (.055) against Iwakuma splitters that have ended up below the strike zone.
One of the best displays of Iwakuma's splitter came back in May against the Oakland Athletics in which he allowed one run in seven innings. He finished off 11 at-bats with a splitter, six of which came via strikeout -– all swinging.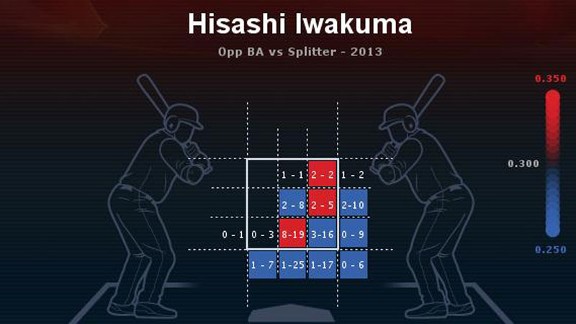 ESPN Stats & Information
Control freak
What forces hitters to bite on Iwakuma's splitter is the fact that he's nearly always around the plate. Over 55 percent of his pitches have been in the strike zone this season, the fourth-best rate in baseball among qualified starters.
Highest Zone Rate
Qualified Starters This Season
This has helped Iwakuma induce the third-highest swing rate in the big leagues at 51 percent, behind only Cole Hamels and Jordan Zimmermann.
Home cooking
Iwakuma has a respectable 3.43 ERA and .240 opponent's batting average on the road, but he has been nearly unhittable at Safeco Park. The righty has 1.84 ERA at home and has allowed opponent's to hit .169.
Iwakuma has allowed fewer hits than innings pitched in each of his nine starts in Seattle this season. He'll look to continue that success tonight against a Red Sox team that leads the majors in runs scored.