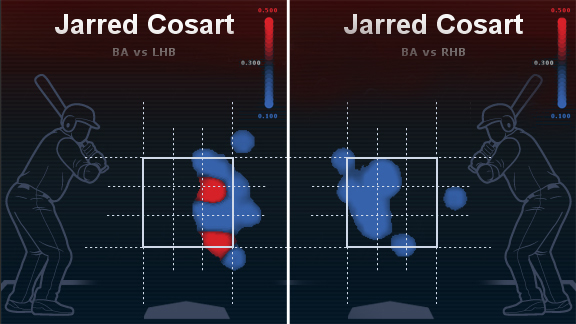 ESPN Stats & Information
Jarred Cosart pitched eight scoreless innings in his major league debut.Jarred Cosart almost did something that had only been done once in Major League Baseball history –- 121 years ago -– but instead settled for quite the impressive debut.
In his first career major league game, Cosart pitched eight scoreless innings (and walked one batter in the ninth inning) while allowing just two hits.
CosartCosart is the fourth American League pitcher in the divisional era (since 1969) to throw at least eight scoreless innings with two or fewer hits allowed in his debut. He's the first to do that since Chris Waters did it for the Orioles in 2008.
Cosart is the first Astros pitcher to pitch at least eight scoreless innings in his major league debut.
His outing was impressive in itself, but it would have been even more impressive if Cosart was able to finish off a no-hitter. His no-hit bid lasted 6⅓ innings. According to the Elias Sports Bureau, that's the longest no-hit bid in an MLB debut since Bill Slayback of the Detroit Tigers went seven innings without allowing a hit in his debut against the New York Yankees in 1972.
Allowed 2 or Fewer Hits, 0 Runs in 8+ IP
AL Pitchers in MLB Debut
Bumpus Jones in 1892 was the only pitcher in history to throw a no-hitter in his major league debut. Bobo Holloman (1953) and Ted Breitenstein (1891) each threw a no-hitter in their first career start after making previous appearances as a reliever.
After Cosart faced one batter in the ninth inning, Jose Veras barely earned the save to preserve the Astros' victory and snap the Tampa Bay Rays' eight-game win streak.
According to Elias, Cosart is the first pitcher in the modern era (since 1900) to snap an opponent's win streak of eight games or longer by throwing eight or more scoreless innings in a winning major league debut.
How did Cosart shut down the Rays?
• Good fastball: He threw a fastball 75 percent of the time, which would rank second among qualified starters over a full season. He recorded 20 of his 24 outs via the fastball, which averaged 94.3 mph for the game.
• Got out of trouble: With men on, Rays hitters went 0-for-6 and grounded into three double plays. That's tied for the most induced double plays in a debut since 1992, when Pedro Astacio had four.
• Shut down righties: Not a single right-handed batter got a hit (0-for-11, including 0-for-3 for Evan Longoria) plus two of the three double plays came from righties (Longoria and Wil Myers).