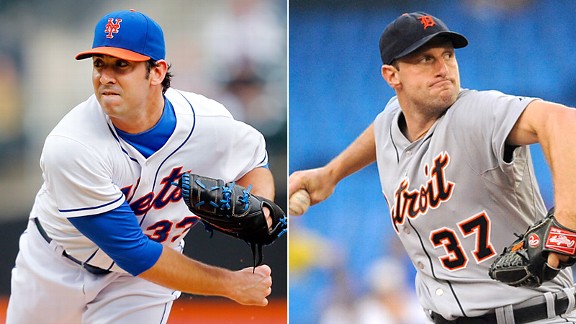 Getty Images
Matt Harvey and Max Scherzer have been rewarded for their dominance.Bruce Bochy and Jim Leyland named their starting pitchers for Tuesday night's All-Star game, tabbing Matt Harvey and Max Scherzer as the game's pitchers.
Let's run through what made that pair deserving of the honor.
NL Starter: Matt Harvey
Harvey is the first pitcher to start the All-Star Game in his home ballpark since Roger Clemens in 2004 and the fifth to do so in the Expansion Era (since 1961).
140 K, Sub-2.50 ERA at Break
Last 10 Seasons
This will mark the fourth time a Mets pitcher has started an All-Star game. The other instances were by Tom Seaver in 1970 and Dwight Gooden in both 1986 and 1988.
Harvey's 147 strikeouts at the All-Star Break are tied with Seaver's 1973 mark for fourth-most in Mets history. His 10.2 strikeouts per nine innings ranks second-best among those with at least 80 innings pitched at the All-Star Break, right between Dwight Gooden (10.8 in 1984) and David Cone (10.0 in 1990).
Harvey's biggest improvement this season has been in avoiding walks. He has 28 walks in 130 innings this season. That's only two more walks than he had in 59 1/3 innings in his 10 starts last season. He's nearly halved his walk rate from 10.6 percent of hitters faced to 5.6 percent this season.
What does Harvey do best? He's averaging 95.6 mph with his fastball this season. That's the fastest of any pitcher who has qualified for the ERA title this season, just ahead of Stephen Strasburg.
He's been an effective four-pitch pitcher in the Justin Verlander mold. He's generated misses on 28 percent of swings against him this season. The only starting pitchers with a better miss rate are Yu Darvish (33 percent), Tim Lincecum (29 percent) and Max Scherzer (29 percent).
AL Starter: Max Scherzer
Scherzer finished with a 13-1 mark at the All-Star Break, the only blemish being a loss to the Texas Rangers on Saturday. Scherzer entered that start with a chance to tie or beat the mark for most wins without a loss at the All-Star Break, held by Dave McNally (13-0, 1969 Orioles).
Most K per 9 - 2013 Season
Among ERA Title Qualifiers
Scherzer gives the Tigers the starting pitcher in the All-Star Game in consecutive seasons. Justin Verlander started for the American League last season.
The last time a league had different starting pitchers from the same team in consecutive years was in 2001 and 2002, when Randy Johnson and Curt Schilling started for the NL as representatives from the Arizona Diamondbacks. The last instance in the American League was in 1989-1990 when Dave Stewart and Bob Welch of the Oakland Athletics started.
Scherzer has been the beneficiary of considerably more run support than Harvey, which may explain why he has 13 wins to Harvey's seven. The Tigers have scored 112 runs in Scherzer's 19 starts. The Mets have scored 79 runs for Harvey.
Nonetheless, Scherzer has been terrific this season. His 4.9 strikeout-to-walk ratio is the best of his career.
Scherzer, like Harvey, brings the heat. His 73 strikeouts with his fastball are the most of any American League pitcher. He throws the pitch at an average speed of 93.2 mph, trailing only Derek Holland's 93.4 among AL starting pitchers.
Scherzer also gets big-time results with his curveball/slider combination. His 42.4 percent miss rate with those pitches is fifth-best among major-league starters.
Scherzer will benefit from being outside of Comerica Park. His 2.20 road ERA this season is the best of any pitcher in the American League.
Did You Know?
• A starting pitcher has been the winning pitcher only once in the last seven All-Star games—Matt Cain last season.
• The last Mets pitcher to win an All-Star Game was Jon Matlack in relief in 1975. He and Tug McGraw are the only two Mets pitchers to win an All-Star Game.
• A Tigers pitcher hasn't won the All-Star Game since Jim Bunning in 1957.