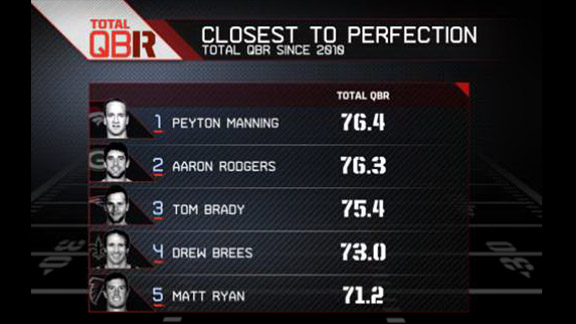 If we were to try to build the perfect quarterback from a statistical perspective, what parts from which current quarterbacks would comprise him?
Let's try to break down which quarterbacks are the best when it comes to six different statistical traits.
Arm strength
New Orleans Saints quarterback Drew Brees led or tied for the NFL lead in completions (31), passing yards (1,142), first downs (30) and 30-yard plays (21) on throws deeper than 20 yards downfield last year.
In the past four years, no one has more touchdown passes on those throws than Brees (38). Only eight other quarterbacks have at least 21, a total that matches Breees' touchdown-interception differential on those deep throws.
Accuracy
Green Bay Packers quarterback Aaron Rodgers is the only quarterback to complete at least 65 percent of his throws in each of the past three seasons. His plus-87 touchdown/interception differential is the best in the NFL in that span.
Decision Making/Ball Control
In the past three seasons, New England Patriots quarterback Tom Brady has thrown an interception or fumbled every 90.5 snaps. No other regular quarterback over that span has a rate of more than 73 snaps between interceptions or fumbles.
Brady has thrown interceptions on only 1.4 percent of his pass attempts in the past three seasons, the lowest rate in the NFL.
Ability to run
Washington Redskins quarterback Robert Griffin III ranked first in rush yards (815), yards per rush (6.8) and yards per scramble (9.6) among quarterbacks with at least 50 rushes last season.
Griffin added 16.5 expected points when rushing last season; he was the only quarterback with more than 10 expected points added rushing the football.
Pocket awareness
New York Giants quarterback Eli Manning was sacked every 29.7 dropbacks, the best average of any regular quarterback last season. Manning and Matt Cassel were the only quarterbacks sacked fewer than 20 times last year (both 19), but Cassel had 258 fewer dropbacks than Manning.
The other stuff
When factoring in things such as durability, fourth-quarter comeback success, road record and playoff record, Baltimore Ravens quarterback Joe Flacco comes out on top.
Flacco has totaled 63 regular season/postseason wins in his first five seasons in the NFL, the most of any quarterback in the Super Bowl era. Flacco is also the first quarterback in NFL history to win a playoff game in each of his first 5 seasons.
Flacco has six road playoff wins, the most by a QB in NFL history, and his seven wins on the road or at neutral sites ties him with Eli Manning for the most in postseason history.
So who's the best
It depends on how you look at it. There are two reasonable answers.
One would be Aaron Rodgers, who fares best when we evaluate quarterbacks by all of the measures listed above. He has ranked third, first and fifth in Total QBR over the past three seasons.
The other would be Peyton Manning, who wasn't the best in any of the stats we noted above, but his Total QBR rated as the best in the NFL last season and was one-tenth of a point better than Rodgers' over the past three seasons.
However, Manning only played in two of the past three seasons due to injury.
Either way, it's hard to go wrong.