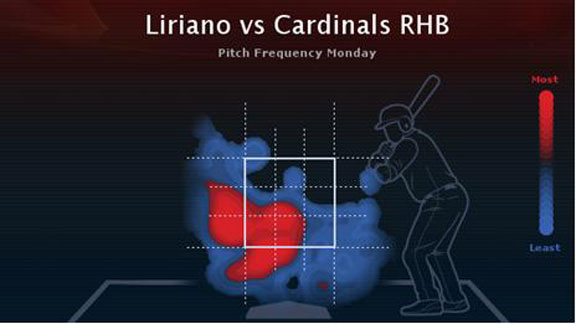 ESPN Stats & Information
Francisco Liriano's slider was tough to hit for Cardinals righties on Monday.Francisco Liriano has proven to be an ace for the Pittsburgh Pirates.
LirianoLiriano is the first Pirates pitcher to win 11 of his first 15 starts of a season since Dock Ellis in 1971, according to the Elias Sports Bureau.
Liriano is the fourth pitcher in MLB history to win at least three games in each of his first three months of a season, have a 2.35 ERA in the first month and then improve his ERA in each of the next two months. According to Elias, the only other pitchers ever to accomplish that feat are Gaylord Perry in 1974 for the Indians, Sandy Koufax in 1966 for the Dodgers, and Hippo Vaughn in 1917 for the Cubs.
How did Liriano shut down the Cardinals?
• For his second straight start, Liriano did not allow a hit when the count got to two strikes (0-for-12 on Monday, 0-for-26 in last two starts).
Francisco Liriano
Since season debut May 11
• Liriano has had continued success with his slider. The Cardinals were 2-for-13 with six strikeouts against Liriano's slider, chasing 52 percent of sliders out of the zone (second-highest rate for Liriano this season).
• Liriano has allowed a .118 batting average against his slider, which ranks fourth in the majors (min. 15 starts). Since May 11 (Liriano's season debut), his 73 strikeouts via the slider lead the majors.
• Liriano stayed down and away to Cardinals right-handed batters. As a result, they were 3-for-21 with seven strikeouts. Against his slider, they were 1-for-10 with five strikeouts.
Liriano got some help from Pedro Alvarez, who hit his 27th home run of the season, giving him solo possession of the National League lead.
The last Pirate to lead the NL in homers was Willie Stargell, who hit 44 in 1973.