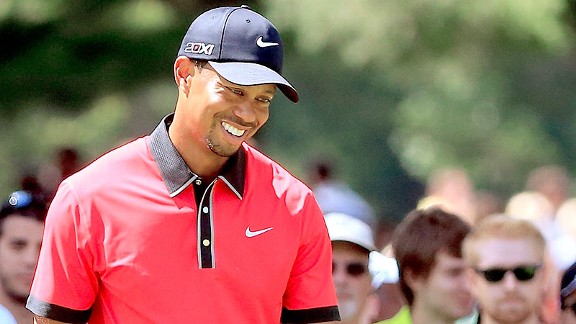 Sam Greenwood/Getty Images
Tiger Woods had a confident approach all weekend.
A victory for Tiger Woods this weekend seemed to never be in doubt.
But does a win quell the doubts those may have about his ability to win a major as he heads into this week's PGA Championship?
Let's break down this win and see what history shows about how he's fared in majors under similar circumstances.
The details
This is Woods' 79th PGA Tour title win, three shy of Sam Snead's record of 82. Woods earned his 79th win at age 37. Snead didn't get his 79th win until age 47.
Woods improved to 23-for-23 when leading by at least three strokes entering the final round of a PGA Tour event. He's 42-for-44 when holding the outright third-round lead.
Most Seasons With 5+ Wins
PGA TOUR History
This is the 10th different season in which Woods has won at least five times. No one else has more than eight such seasons.
Woods has now won the WGC-Bridgestone eight times, tying the record for most career wins at a single event. He already shared the mark with Snead. Woods also has eight wins at the Arnold Palmer Invitational. Snead won the Greater Greensboro Open eight times.
Woods has 18 career WGC wins. No one else has won more than three.
How Woods won
Woods entered the weekend tied for 79th in approach-shot proximity and 33rd in greens in regulation. This week, he ranked first and second in the field in those statistics, respectively.
Woods' average approach shot was nine feet closer (25 feet, eight inches) than his average shots had fared this season entering the week.
Elias Sports Bureau stat of the day
This is the 12th time that Woods has won a PGA Tour Event by at least seven shots. Only two other golfers have multiple wins by seven or more shots since Woods turned pro in 1996. Rory McIlroy and Ernie Els have two each.
Looking ahead
Woods has won on the PGA TOUR the week before a major by six or more shots one time in his career -- the 2007 WGC-Bridgestone. Tiger went on to win the PGA Championship the following week, his sole major win of the 2007 season.
This is the fourth time Woods won an event the week before a major. He has a win and a pair of runner-up finishes in the three previous majors that came a week after winning an event.
This is the 20th time he's won in the start before a major. He won the ensuing major four times.
But those were not recent wins. Woods has not had such a victory since 2008, as the image below details.