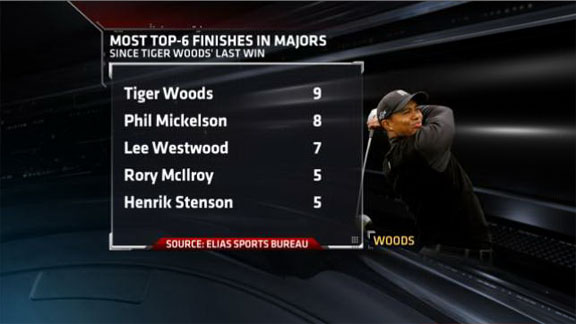 The PGA Championship is Tiger Woods' final chance to capture a major before turning 38 in December. If he doesn't, his major drought will reach 18 and all eyes will then turn to The Masters in April.
In August 2012, Woods shared the 36-hole lead in the 2012 PGA Championship. But Woods struggled to a 2-over 74 in the third round, and eventual winner Rory McIlroy fired a 67, turning a two-shot deficit into a three-shot lead on the field -- and five shots on Woods.
The PGA Championship also represents the only major Woods failed to win after holding a 54-hole lead: in 2009 when Y.E. Yang emerged victorious after a 3-over 75 by Woods on Sunday.
This PGA Championship also carries significance for Woods' future success.
Only two players have won four majors after turning 38 -- Ben Hogan (5) and Jack Nicklaus (4). Four is the key number as it represents the gap between Nicklaus' record 18 major wins and Woods' 14.
Mickelson's success
What might be surprising though, as Woods has struggled in majors with age, rival Phil Mickelson has gotten better with age.
In Major Championships
Since Turning 33 Years Old
Mickelson didn't capture his first major until turning 33. Since then, Mickelson has won four more majors and finished in the Top 3 in 12 of 40 majors.
Mickelson is three wins shy of the record for most majors won at age 33 or older. Ben Hogan has the most with eight, one more than Nicklaus, two more than Sam Snead and Harry Vardon.
Woods has played in 17 majors since turning 33. He's won none.
Major trends
The last three winners of the Open Championship were at least 42 years old, and two of the last five Masters winners were at least 39 years old.
Tiger Woods As a Pro in Majors
But the other two majors have trended toward younger winners.
Forty-two-year old Payne Stewart's win at Pinehurst in 1999 is the only U.S. Open in the last 21 years to be won by a player at least 38 years old.
And 41-year-old Vijay Singh's win in the 2004 PGA Championship is the only one of the last 25 to be won by a player at least 38 years old.
Woods vs. the greats
How does Woods' drought of 17 majors played without a win compare to major droughts of other golf greats?
Nicklaus went 20 majors between his win at age 40 in the 1980 PGA Championship and his miraculous win at age 46 in the 1986 Masters. Nicklaus' second-longest span between major wins was 12 -- between the 1967 U.S. Open and 1970 Open Championship. Gary Player's longest span between major wins was 15. Tom Watson's was 11.
Amazingly, Ben Hogan never had a stretch longer than four between major wins and Arnold Palmer never had one longer than five.
Dreading the weekend?
Woods has been in contention since capturing his last major win in the 2008 U.S. Open -- he has nine Top 6 finishes since then, most of anyone in the sport. But his weekend struggles have been well documented.
In the last six majors, Woods is 11-under in rounds 1 and 2, compared to 23-over in rounds 3 and 4. In his last 20 weekend rounds, Woods is 24-over par. If you eliminate six weekend rounds at Augusta National, Woods is 29-over in the other 14 rounds.
In his last 13 Sunday rounds in majors, Woods shot plus-3 or worse six times. In his first 46 Sunday rounds as a pro, that happened only eight times. And twice in his last 11 Sunday rounds, Woods shot 4-over or worse. That happened only twice in his first 47 Sunday rounds as a pro.
Woods' last sub-par Sunday round in a major other than the Masters came in the 2009 U.S. Open.
The ghost of past struggles
The 2003 PGA Championship at Oak Hill represents his second-worst major finish in terms of position as a pro (12-over, tied for 39th). It is also one of three majors in which Woods failed to shoot par in any round, joining the 1998 U.S. Open (10-over, tied for 18th) and 1999 Open Championship (10-over, tied for 7th).
Woods entered the 2003 PGA with seven wins in his previous 17 majors, compared to the 0-for-17 drought he is currently enduring.