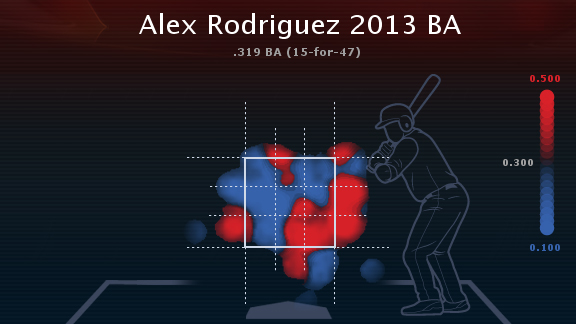 Alex Rodriguez has been able to hit the inside pitch since returning.
Alex Rodriguez returned to the Yankees lineup on August 5 and his returncame with lots of controversy on-and-off the field, the most recent coming on Sunday, when Ryan Dempster hit him with a pitch.
Let's use this space to look at three Rodriguez-related matters, specifically related to on-field performance.
Yankees bats awaken
The Yankees offense has been considerably better since Alex Rodriguez returned to the lineup (helped as well by the hot-hitting of Alfonso Soriano).
Yankees Offense This Season
They're hitting .303 in 13 games with A-Rod after hitting .240 without him. They're scoring about a run and a half more per game and hitting a homer much more often.
Rodriguez isn't the only right-handed bat to add something of value to the Yankees lineup. Soriano has a 1.105 OPS with seven home runs and 22 RBI in the 13 games since Rodriguez returned. Eduardo Nunez is hitting .320 with seven RBI. Even Vernon Wells, who was in a prolonged slump, is 9-for-24 in that span.
Rodriguez is tied for the Yankees lead in homers by a third baseman this season, with his two. Kevin Youkilis and David Adams each hit two earlier this season.
A-Rod's strengths and weakness
A look at the heat map above tells a pretty clear story for Rodriguez's first dozen games.
Rodriguez is thriving when he's able to make contact with a pitch on the inner-half of the plate or off the inside corner. He's 11-for-29 with two doubles and two home runs when an at-bat ends with a pitch to that are. The caveat is that he's missing on about one-fourth of his swings.
Against pitches on the outer half (or off the outside corner), he's only missing at a rate of once every five swings. But he hasn't done as much when he has made contact, with four hits in 18 at-bats that ended with pitches there.
It's way too early to look at advanced defensive statistics, but Rodriguez doesn't appear to have hurt the Yankees in his 88 innings at the hot corner this season.The video-review crew at Baseball Info Solutions has credited him with seven Good Fielding Plays and four Defensive Misplays & Errors.
Last season, Rodriguez totaled only 14 Good Fielding Plays (in more than 700 innings) and had 21 Misplays & Errors.
Looking Ahead
Rodriguez will see a mix of pitchers with which he's familiar and unfamiliar. He'll get his first look at Esmil Rogers on Tuesday and another shot against J.A. Happ, against whom he's 0-for-3, on Thursday.
In between that, Rodriguez will face Mark Buehrle and R.A. Dickey. Rodriguez has 34 at-bats against Buehrle and no homers, his second-most at-bats against a pitcher that he's homerless against. He's 7-for-16 against Dickey, albeit without a home run. Dickey did strike him out twice in their most recent meeting, a little more than a year ago.