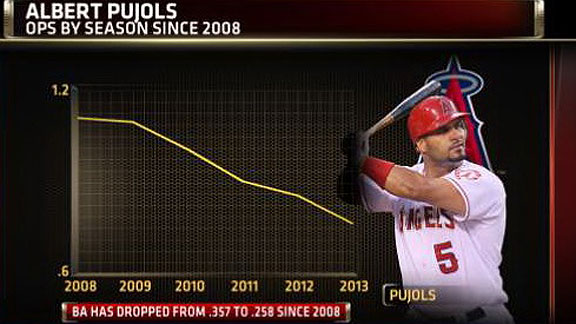 ESPN Stats & Info
The Angels are on the hook for another eight seasons with Albert Pujols, whose numbers have been on the decline in recent seasons.When it comes to bloated contracts, first there was Mike Hampton's with the Colorado Rockies. Then, Barry Zito's with the San Francisco Giants and Alex Rodriguez's with the New York Yankees set the bar even higher.
But there's one contract still in its infancy that could end up far more burdensome than any previous contract in major league history.
Much has been made of how the Yankees owe Rodriguez nearly $90 million (not including performance bonuses) through 2017.
However, the Los Angeles Angels still owe Albert Pujols –- who will miss the rest of the 2013 season with an injured left foot -- $212 million through 2021. The two least-expensive seasons in his 10-year deal were 2012 ($12 million) and 2013 ($16 million).
The only player who is owed more money starting next season is the Cincinnati Reds' Joey Votto ($225 million through 2023).
Albert Pujols By Team
162-Game Averages
Pujols has seen several of his once-lofty statistics decline since he won back-to-back National League MVP awards in 2008 and 2009.
Pujols had 9.2 Wins Above Replacement (WAR) in 2008 and a major league-best 9.7 in 2009. Since then, it has dropped from 7.5 in 2010 to 5.0 in his first season with the Angels to 1.6 this season. That's tied for 129th, with players such as Kelly Johnson, Dioner Navarro and David DeJesus, to name a few.
Pujols' OPS has decreased each of the past five seasons after he posted a career-high 1.114 OPS in 2008.
This season will also mark the first time in Pujols' 13-year career that he will not hit at least 30 home runs and just the second time that he will not drive in 100 runs.
Another streak that will come to an end is his 12-season run with 150 hits. That's tied for the third-longest streak in the live ball era. Only Paul Waner (14 straight from 1926 to '39) and Richie Ashburn (13 straight, 1948-60) had longer such streaks.
And, for the first time in his career, Pujols will play less than 100 games.
When Pujols returns in 2014, he will be eight home runs from becoming the 26th member of the 500-home run club and two RBIs from 1,500.