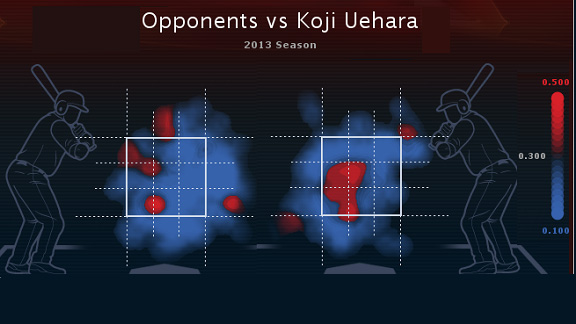 There aren't a lot of hot spots for opposing hitters against Koji Uehara.
The Boston Red Sox have made their share of smart moves in transitioning from worst to first in the AL East, but the best move may have been one made out of necessity- making Koji Uehara their closer.
After injuries to Andrew Bailey and Joel Hanrahan, Uehara got the call to finish games.
And though there are a number of closers who have been fantastic of late (particularly Kenley Jansen of the Los Angeles Dodgers), the best has been Uehara. He wrapped up another Red Sox win on Sunday.
As the heat map above shows, no one has been able to hit Uehara this season. Here's a closer look at his dominant work.
Total dominance
Uehara has an 0.29 ERA, .097 opponents' batting average, 37 percent miss rate and a strikeout-to-walk rate of 41-to-2 since becoming the Red Sox full-time closer on June 26.
All of those rank the best in baseball in that span.
Uehara's current scoreless streak is 24 innings, during which opponents are 6-for-73 with one walk against him.
Key to success: The Splitter
Orel Hershiser (whose 59-inning scoreless streak began 25 years ago last Friday) likes to frequently bring up that the key to pitching is getting hitters out with balls that look like strikes.
Uehara has a pitch that does that in his split-fingered fastball.
He's thrown 200 of them since June 26 and they've resulted in 58 outs and only five baserunners. Opponents have missed on 46 percent of their swings against it.
One way to get him: The home-run ball
Uehara's history is such that his one weakness has been the home run. He allowed 11 in 65 innings in 2011, and four in 36 innings in 2012. He gave up five to the 131 hitters he faced through the end of June, but has not allowed any to the 91 he faced since.
Uehara has kept the ball down a little more often of late, lowering his rate of pitches in the upper half of the strike zone and above from 51 percent to 46 percent.
Did You Know?
Uehara has a 1.17 ERA in 61 1/3 innings pitched this season. The Red Sox record for lowest single-season ERA (minimum 60 inings) is 0.92, set by Jonathan Papelbon in 2006.