For the past few years, college football's opening weekend has had a great Labor Day game on ESPN. (On Monday, the Pittsburgh Panthers host the No. 11 Florida State Seminoles at 8 ET on ESPN.) Each of the past five Labor Day games on ESPN, the deciding score came with less than two minutes left in the fourth quarter or in overtime.
Here's a closer look at the last five "Monday Night Football" openers.
2012: Virginia Tech def. Georgia Tech, 20-17 (OT)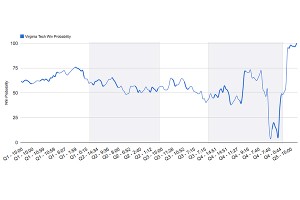 ESPN Stats & Information
Virginia Tech's win probability dropped below 5 percent late in the fourth quarter before rallying to tie the game and eventually win in OT.
A low-scoring affair through three quarters (7-7), each team had two lead-changing scores in the fourth quarter. Georgia Tech quarterback Tevin Washington found Deon Hill for a 10-yard touchdown to give Georgia Tech a 17-14 lead with 44 seconds left. But Logan Thomas and Corey Fuller hooked up twice to put Virginia Tech in position for Cody Journell's game-tying 41-yard field goal as time expired to send the game into overtime. In overtime, Virginia Tech picked off Washington, and Journell hit a chip-shot field goal to help the Hokies avoid the upset at Lane Stadium.
2011: Maryland def. Miami, 32-24
In a back-and-forth game that some remember for the debut of Maryland's "unique" uniforms, quarterback Danny O'Brien threw for 348 yards, including a 52-yard pass to Kevin Dorsey late in the fourth quarter that helped set up the Terrapins' game-winning field goal. Miami had one last chance, but Stephen Morris' fourth-down pass was intercepted and returned 54 yards for a touchdown by Cameron Chism, giving coach Randy Edsall a win in his Maryland debut.
2010: Boise State def. Virginia Tech, 33-30
In a much-anticipated matchup of preseason Top-10 teams at FedEx Field, Virginia Tech rallied from an early 17-point deficit and took a 30-26 lead midway through the fourth quarter. Boise State quarterback Kellen Moore capped off a game-winning drive, finding Austin Pettis for a 13-yard touchdown with just more than a minute left. The win extended the Broncos' win streak to 15 games.
2009: Miami 38, Florida State 34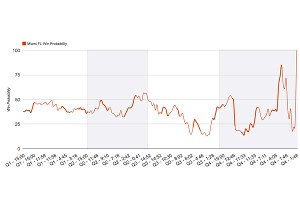 ESPN Stats & Information
Miami's win probability dropped below 20 percent several times in the second half before scoring the game's final points.
With both Miami and Florida State attempting to return to national relevance, the in-state rivals traded punches all game long. Miami's win probability dropped below 20 percent several times in the second half before scoring the game's final points. Miami running back Graig Cooper's three-yard run with 1:53 left in the game was the fourth touchdown scored in the fourth quarter, and gave the Hurricanes a four-point lead. But Miami had to withstand a last-gasp attempt by the Seminoles: Christian Ponder's pass to Jarmon Fortson on 3rd-and-goal from the two-yard line was ruled incomplete in the end zone, and Miami held on to hand Bobby Bowden another heartbreaking loss in Tallahassee.
2008: UCLA 27, Tennessee 24 (OT)
UCLA quarterback Kevin Craft threw four first-half interceptions, but the Bruins trailed by only seven points at halftime. The teams one-upped each other in the final minutes of the fourth quarter, with Craft leading a 70-yard drive for the apparent game-winning score with just 27 seconds to play. However, Tennessee's Daniel Lincoln kicked a 47-yard field goal as time expired to tie the game at 24 and force overtime. After UCLA's Kai Forbath made a 42-yard field goal, Lincoln missed a 34-yarder that would have forced a second overtime.