Who leads the majors in home runs over the last 12 days? It's not currently injured Detroit Tigers third baseman Miguel Cabrera or Baltimore Orioles slugging first baseman Chris Davis.
The leaderboard is headed by a player of considerably smaller girth in Oakland Athletics centerfielder Coco Crisp.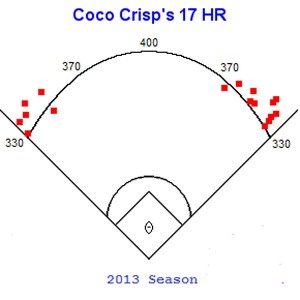 Crisp is in the middle of a hot streak in which he has seven homers and 10 RBI in his last dozen games. He now has a career-high 17 home runs this season.
Monday he wrapped a Derek Holland pitch just inside the left field line for a tiebreaking homer in the fifth inning, helping the Athletics regain a share of the AL West lead. The 335-foot homer is the shortest one hit by an Athletics player at home since we started tracking homer distances at the start of the 2006 season.
The path of Monday's home run was not unusual for Crisp. His homer spray chart over the last five seasons features dots mostly along the left and right field lines (40 of his 47 were defined as "far left" and "far right" in our charting with regards to the area of the field), with none hit to straightaway center.
This may be something that Crisp has taken greater aim at in 2013.
In looking at his fly balls and line drives from 2009 to 2012, 43 percent of the balls he hit were located in the areas we defined as "far left" and "far right."
Crisp has hit 213 balls in the air this season, and based on his past performance we'd expect him to have hit 92 balls there. He's hit 105.
A couple of other Crisp nuggets of note:
• As a result of this approach, his average home-run distance this season is 365.4 feet, second-lowest in the majors among those with at least 10 homers. The only player with a shorter average distance is Ian Kinsler (363.4).
Coco Crisp in 2013
• Crisp has five home runs against left-handed pitching this season. But prior to his homer against Holland, he was 4-for-his-last-33 against left-handed pitching.
• Crisp contributed 1.3 Wins Above Replacement to the Athletics in August, matching Josh Donadlson and Jarrod Parker for the most among Oakland's players.