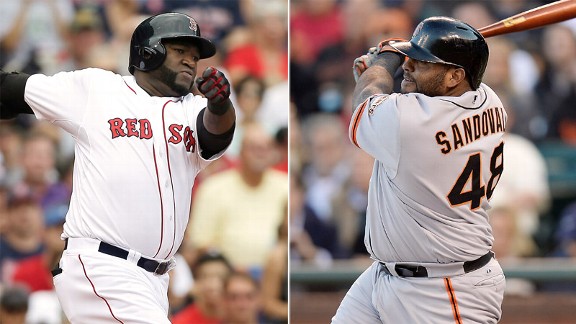 AP Photo, Getty Images
David Ortiz (left) and Pablo Sandoval (right) both reached milestones on Wednesday.Wednesday saw milestones occur in both the National and American Leagues, as Pablo Sandoval and David Ortiz each had special performances.
Encore performance for the Panda
Sandoval is the reigning World Series MVP after winning it with the San Francisco Giants last season, largely due to his three home runs in Game 1 of that series. By hitting three home runs on Wednesday, the Kung-Fu Panda joined an exclusive list.
3 HR Games in Regular and Postseason
MLB History
Sandoval is just the sixth player in MLB history to have a three-homer performance in both the regular and postseason in his career. Of the other five players, two are active (Albert Pujols, Adrian Beltre) and three are in the Hall of Fame (Babe Ruth, George Brett, Reggie Jackson).
According to the Elias Sports Bureau, Sandoval also is the first reigning World Series MVP to hit three homers in a game (World Series MVP has been awarded since 1955).
Comparing the two performances, the World Series performance remains the better one – both in significance of the game and in distance. Sandoval's average home run distance was 370 feet Wednesday, much shorter than the 412-foot average distance he posted in last year's Fall Classic.
Ortiz reaches 2,000 with an exclamation point
David Ortiz became the 18th active player to reach 2,000 career hits, belting home runs before and after his 2,000th hit. Ortiz now has 39 career multi-homer games with the Red Sox, the most in franchise history.
Ortiz now has nine 25-homer seasons for the Red Sox, second-most in franchise history, trailing only the 14 by Ted Williams. No AL player has more 25-homer seasons than Big Papi (nine) dating back to 2003. Alex Rodriguez and Paul Konerko each have eight such seasons, but are not in range to tie Ortiz's mark this season.
Most Games With 10 Total Bases
Red Sox History
As has become routine for Ortiz in recent years, he's further included himself in the company of Red Sox lore. Ortiz had 10 total bases on Wednesday. The Elias Sports Bureau confirmed that this is his 11th game with at least 10 total bases, breaking a tie with Manny Ramirez and Ted Williams for most in franchise history.