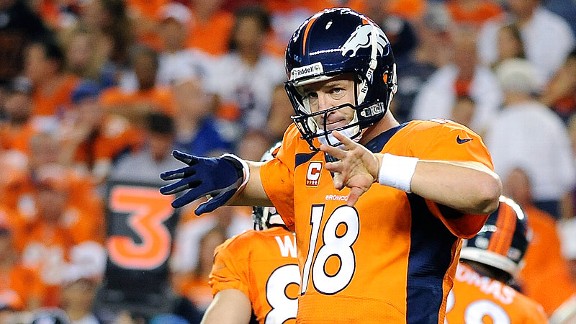 Steve Nehf/The Denver Post via Getty Images
Every direction Peyton Manning made on Thursday was the right one.This wasn't quite at the level of an NFL playoff game, but Denver Broncos quarterback Peyton Manning took the NFL's season opener to show that he's still got plenty left for another potential Super Bowl run.
Manning had arguably the best day of his career, a record-setting one in the Broncos 12th straight regular-season win, 49-27 over the Baltimore Ravens.
The Ravens defense, typically among the best in the NFL, could do nothing to slow Manning down. The 49 points were the most allowed in a single game in team history.
Here's a look at the highlights from this rout, the biggest win over a defending Super Bowl champion in a season opener.
Vintage Manning
Peyton Manning flashed back to his best days with an NFL record-tying seven touchdown passes. According to the Elias Sports Bureau, Manning joins Y.A. Tittle as the only quarterbacks to throw for seven scores without throwing an interception. He tied the NFL records both for number of games with four touchdown passes (23, shared with Brett Favre) and at least five touchdown passes (seven, tied with Drew Brees). He also has the most games with six touchdown passes in NFL history with three.
7 Passing TDs In Single Game
NFL History
He's the sixth player with seven touchdown passes in a game, the first since Joe Kapp in 1969. He's the only Broncos player to throw for that many scores in a game.
Manning also joined Brees as the only quarterbacks in the Super Bowl era to throw six touchdown passes in a season opener and became the second-oldest quarterback with at least six touchdown passes (the Elias Sports Bureau notes that 38-year-old Favre was a year older). He is also the only quarterback to throw as many as six touchdown passes in a game against the Ravens.
Manning has a pair of games with at least six touchdowns and no interceptions. Only four other quarterbacks have at least one such game in the Super Bowl era. Tom Brady also has two.
Manning had four touchdown throws that went at least 15 yards downfield. Only two other quarterbacks have had a game with that many such throws within the past six seasons -- Brett Favre and Aaron Rodgers.
Manning is 10-3 against the Ravens, combining regular season and postseason. That's the most wins for any quarterback against them.
His 462 passing yards were the second-most he had in any game in his career. He had 472 against the Kansas City Chiefs in 2004.
Breakout performer: Julius Thomas
Julius Thomas entered Thursday with only one career reception. But he has a terrific game on Thursday with five catches for 110 yards and two touchdowns. He's the fifth Broncos player with 100 receiving yards and two receiving touchdowns in a season opener, the first since Ed McCaffrey in 1999.
Julius Thomas and teammate Demaryius Thomas are just the second set of teammates in the Super Bowl era with 100 receiving yards and two touchdowns in a season opener.
It hasn't happened since 1966 when the Hall of Famer Bob Hayes and Dan Reeves did it for the Cowboys.
Julius Thomas follows in the footsteps of Randall Cobb, who had a touchdown catch and kickoff return for touchdown for the Green Bay Packers in 2011 and Kevin Ogletree, who had two touchdown receptions for the Dallas Cowboys in 2012, as players who had breakout performances in the NFL opener in the past three seasons.
Flacco couldn't keep up
The magic touch that Baltimore Ravens quarterback Joe Flacco had throughout last year's playoff run eluded him on Thursday. He was 2-for-8 when he threw the ball more than 20 yards downfield. In last year's playoff win over the Broncos, Flacco was 4-for-7 on those throws, with three touchdown passes, including the game-tying one late in the fourth quarter.
Did You Know?
This is the second straight year that a defending Super Bowl champ has lost its season opener. Prior to that, the defending champ had won the past 12 openers.
The loss snapped the Ravens five-game win streak in season openers.