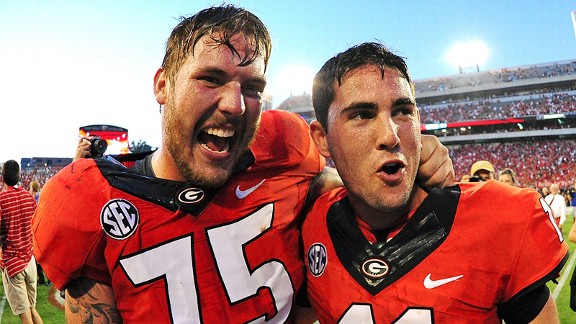 Scott Cunningham/Getty Images
Georgia QB Aaron Murray (right) defeated South Carolina for the first time in four tries Saturday.After losing his first three games against South Carolina, Georgia quarterback Aaron Murray finally got that elusive win against the Gamecocks on Saturday.
Murray completed 17 of 23 attempts for 309 yards and four touchdowns in Georgia's 41-30 win, just one week after failing to throw for a score in Georgia's loss to Clemson.
One of the major differences for Murray on Saturday compared to his prior three meetings against the Gamecocks was his efficiency on third down. Murray went 6-for-7 on third down pass attempts Saturday, including two touchdowns.
He averaged nearly 20 yards per attempt on third downs Saturday, 11 yards more than his career average entering the game.
Aaron Murray
Career vs Top-10 Opponents
The win against 6th-ranked South Carolina was Murray's second against a top-10 team. Entering the day, he was 1-6 career in games against top-10 teams with eight touchdowns to nine interceptions in those games.
Murray now has 99 career passing touchdowns, leaving him 15 shy of the SEC career record held by Florida's Danny Wuerffel.
While Murray led the Bulldogs' passing attack, Todd Gurley led the way on the ground for Georgia.
Gurley carried the ball 30 times for 134 yards and a touchdown. It was his 10th game with at least 100 rush yards and a rushing touchdown since the start of last season, and his second of the 2013 campaign.
Much of Gurley's attack came outside the tackles: he had 10 rushes for 68 yards outside the tackles against South Carolina, two more yards than he had rushing inside the tackles -- and on 10 fewer carries.
It was markedly different than last week, when only one of Gurley's 12 carries went outside the tackles.
On the other sideline, South Carolina defensive end Jadeveon Clowney recorded his first sack of the season in the loss.
Clowney's sack, the 22nd of his career, jumped him up a spot over Melvin Ingram for fourth on the school's career list. He's seven sacks shy of tying the school record, set by Eric Norwood (2006-09).
The loss was just South Carolina's second (13-2) to an SEC East team since 2010, with the other coming to Florida last season.