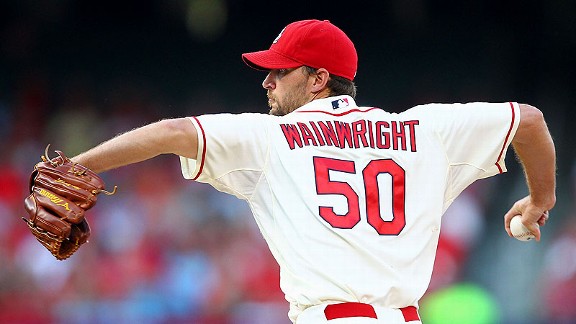 Dilip Vishwanat/Getty Images
Adam Wainwright bounced back Saturday after poor outings in his past two starts. After struggling in his past two starts, Adam Wainwright got back on track Saturday, and in doing so, helped the St. Louis Cardinals move back in to sole possession of first place in the NL Central with their win against the Pittsburgh Pirates.
Wainwright went seven scoreless innings, striking out eight after entering the day with a 16.88 ERA in his previous two starts.
Adam Wainwright's Curveball
vs Pirates This Season
Three keys that powered his bounce back:
• His curveball was vintage Wainwright. He induced eight swings and misses on it, tied for his most with the pitch this season. Five of his eight strikeouts came on his curveball, tied for his fourth-most in a start this season.
• 59 percent of his pitches were down or below the zone, tied for his highest percentage this season. Pirates hitters were 0-for-13 against pitches down or below the zone, and seven of his eight strikeouts came in that location.
• After allowing six hits, including two homers, with his cutter in his last two starts, Wainwright had improved command with the pitch Saturday. He threw only three of his 25 cutters in the upper half of the zone, his lowest percentage this season. Both homers he allowed with the pitch in his previous two starts were in that location.
The Cardinals lead the Pirates by a half-game in the NL Central; St. Louis hadn't had sole possession of first place in the division since August 29.
Also showing flashes of his old self was David Freese, who drove in the game's first run on a sacrifice fly in the fourth inning and later added a solo home run in the sixth.
Freese has two home runs in his last three games. He had two home runs in his previous 66 games prior to this recent power surge.
LockeMeanwhile, Jeff Locke's return from the minors did not go well.
Locke is now 0-3 with a 6.57 ERA in his past eight starts. His season ERA has jumped from a season-low 2.01 on June 19 to 3.23 after Saturday.
One could say his struggles have really just been a regression to the mean.
Before these past eight starts, Locke led MLB with a .226 batting average on balls in play. But since, it's skyrocketed to .424, easily the highest among pitchers since July 26 (minimum eight starts).
One reason: the soft-hit balls that were finding Pirates gloves when all was going well are now dropping for hits.
Through July 25, Locke had a BABIP of .107 on soft-hit balls; it's jumped to .290 in his past eight starts. For context, league-average BABIP on soft-hit balls is .139.
Sunday marks the season finale between the Cardinals and Pirates, a season series already won by Pittsburgh (10-8 entering Sunday).
Down the stretch, Pittsburgh has nine of its final 20 games against opponents with winning records (including six games against the Cincinnati Reds). St. Louis closes its schedule with 16 of its final 19 games against sub-.500 opponents.