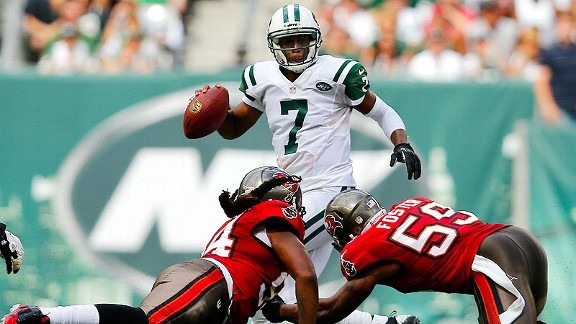 Rich Schultz/Getty Images
Geno Smith had enough good moments in his NFL debut to win.
It was a day that in the end was statistically average, but that was perfectly acceptable for the New York Jets and their new starting quarterback, rookie Geno Smith.
Smith came up with the game's biggest play at the end, a 10-yard run/late hit penalty combo that put the Jets in range for Nick Folk's game-winning field goal in their victory over the Tampa Bay Buccaneers.
Jets Rookie QB
Started Season Opener
Smith went 7-for-11 for 83 yards in the fourth quarter. His Total QBR in the final 15 minutes was 76.0, nearly double his 38.3 through the first three quarters.
Smith's QBR rose significantly in the second half. He was at 31.2 after 15 minutes and 29.1 at halftime. But he posted a 60.3 QBR in the third quarter to start the turnaround.
In the end, the 48.5 was higher than Mark Sanchez's QBR in 11 of his 15 games last season.
A closer look at his rating
Smith was 19-for-28 for 201 of his 256 yards and nine first downs when the Buccaneers sent four pass rushers or fewer. Sanchez completed only 57 percent of his throws against standard pressure last season, averaging 5.5 first downs per game.
Smith was judged to be "off-target" by our video-review crew on only four of his 38 pass attempts (11 percent). By comparison, Sanchez had an off-target rate of 22 percent last season.
The one note that might temper the enthusiasm of the Jets coaching staff is that Smith's Total QBR on pass plays was only 25.7, largely due to the five sacks he took (one of which allowed the Buccaneers to take over deep in Jets territory in the second quarter, and two others that cost the Jets more than 10 yards).
His overall Total QBR was boosted significantly by his six scrambles, including the one on the Jets' final offensive play, which bumped him from 43.2 to 48.5. The key scramble was only his second one outside the right tackle in the game. His four others went to the left or up the middle.