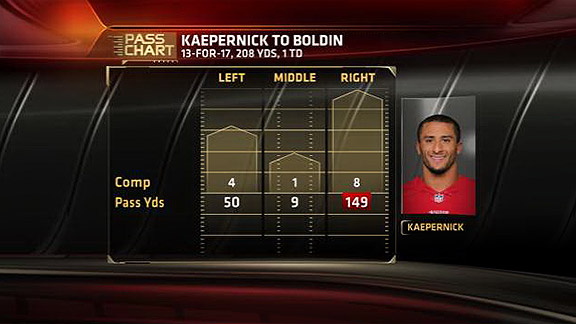 Colin Kaepernick found Anquan Boldin often, especially on the right side of the field.The San Francisco 49ers got the best of the Green Bay Packers both in last year's playoffs and on Sunday afternoon.
But the manner in which they did so differed a little bit this time around.
Here's a closer look:
Boldin the beautiful
Statistically speaking, Anquan Boldin had one of the best season-opening games in NFL history.
Boldin had 208 receiving yards, the most in a season opener since 2003 when Boldin had 217 as a member of the Arizona Cardinals.
He is the only player in the Super Bowl era to have one season opener with at least 10 catches and 200 receiving yards, let alone two.
Boldin was most effective on the right side of the field, as noted in the image atop the article. He finished with five catches at least 15 yards downfield, tied for his most in a game in the last six seasons.
Boldin's 208 yards were 39 more than 49ers great Jerry Rice had in his best season opener for the team (1994).
The Elias Sports Bureau noted that Boldin is the first player in NFL history to have 100-yard receiving games in his debut for three different teams.
Packers shut down read option, but not Kaepernick
When the 49ers and Packers met in the playoffs, the 49ers had 16 zone-read rushes for 176 yards en route to the win. They had only seven such rushes for 10 yards on Sunday.
400+ Passing Yds, 3 Pass TD, 0 Int
In Season Opener (Super Bowl Era)
But that did nothing to thwart Kaepernick's effectiveness.
Kaepernick completed 69 percent of his passes and threw for 350 yards and 2 touchdowns from the pocket Sunday. The last time these two teams met, Kaepernick completed a career-low 55 percent of his passes from the inside the pocket.
Kaepernick was 9-of-11 for 152 yards and a pair of touchdowns using play-action fakes. Vernon Davis caught all four targets for 74 yards and both touchdowns on play-action passes.
Davis also had 81 of his 98 total receiving yards from the slot. Last season, Davis gained less than one-quarter of his total receiving yards from the slot.
Kaepernick's 89.8 Total QBR against the Packers was the best in any game against them in the last four seasons.
Rodgers struggles against pressure
Aaron Rodgers was his normal productive self against a standard pass rush Sunday, completing 20-of-30 passes for 330 yards and three touchdowns.
However, when the 49ers sent extra pressure after Rodgers, as they did on four of his eight third-down dropbacks, he was ineffective. Rodgers finished the game 4-of-8 for 45 yards on third down, converting only twice.