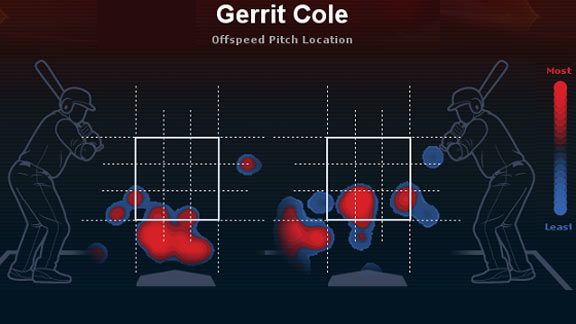 The Pittsburgh Pirates are now officially a winning baseball team, with Monday's win marking their 82nd victory of the season and the first time since 1992 that the Pirates are assured of finishing with a winning record.
The reason they got there on Monday (on their fifth try) was because of the pitching of rookie Gerrit Cole, who beat the Texas Rangers and Yu Darvish, 1-0.
Cole allowed no runs in a game for the first time in his career and finished with a career-high nine strikeouts.
Let's take a closer look at the statistical noteworthiness of this contest.
How Cole Won
Cole was able to locate his offspeed stuff with precision. He threw 16 curves, 16 sliders and four changeups, and those pitches combined to net him 10 outs, with seven coming via strikeout.
The image atop this article shows how Cole was able to spot those pitches. Of the 36 he threw, 31 were in the lower-third of the strike zone or below the knees.
This was the second straight start in which Cole had really good offspeed pitches. In his previous start against the Brewers, he got nine outs with those pitches and allowed only one batter to reach base.
Cole has a 2.51 ERA in his past five starts. He has allowed two runs or fewer and pitched six innings or more in four of those five.
Cole's seven wins are the most by a No. 1 pick in his debut season since Kris Benson had 11 for the Pirates in 1999.
Putting the Pirates' win total in perspective
The Pirates' streak of 20 straight losing seasons was the longest streak in any of the four major sports.
In the 20 seasons from 1993 to 2012 not only did the Pirates not have a winning season, they had only one player finish in the top 10 in the NL MVP voting (Andrew McCutchen finished third last season). Every other NL team had at least six players finish in the top 10 in that span.
Cole had just turned 2 years old when the Pirates last clinched a winning season (he turned 23 on Sunday). On Sept. 12, 1992, Jim Leyland managed the Pirates to their 82nd win, one more than a Phillies team whose lineup included current Phillies general manager Ruben Amaro and ESPN baseball analyst John Kruk.
The last time that Pirates manager Clint Hurdle led a team to a winning record was 2007. That year, he took the Colorado Rockies to the World Series.
Hard-luck Yu Darvish
Darvish lost a 1-0 game for the third time this season. The Elias Sports Bureau notes that's the highest total of 1–0 losses in one season for a pitcher since Orel Hershiser suffered four such losses in 1989 (twice to Andy Benes, once to Frank Viola and once to Greg Maddux). The Rangers have lost each of Darvish's last five starts, with four of the losses being by a single run.