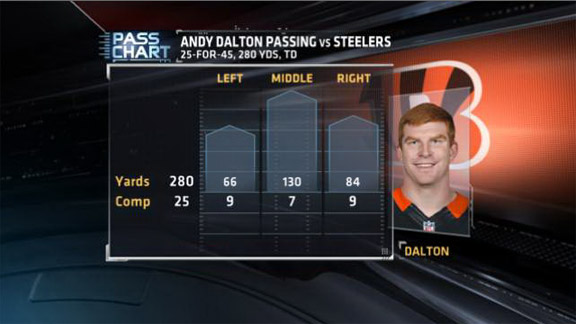 Andy Dalton made good use of the center of the field in the Bengals' win.
The Cincinnati Bengals seem to have turned an important corner when it comes to beating the Pittsburgh Steelers, with wins in the last two meetings. In each instance, they held the Steelers to 10 points.
The Steelers are 0-2 for the first time under Mike Tomlin. This was only the second time in 10 games that Ben Roethlisberger lost in Cincinnati.
On this night, it was a rookie who stole the show.
Bernard makes the Bengals go
Rookie Giovani Bernard scored the first two touchdowns of his NFL career. He's the third rookie to score two offensive touchdowns against the Steelers in a Monday Night Football game, joining Fred Taylor and Earl Campbell.
He's also the first Bengals rookie with two offensive touchdowns on Monday Night Football since Stan Fritts in 1975.
Bernard was the first Bengal to score two touchdowns in any game against the Steelers since Terrell Owens in 2010.
Dalton wins by keeping it simple
On a day in which Andy Dalton threw his 50th career touchdown pass, he won by keeping his passes short and letting his receivers do the work.
Dalton finished 17-for-20 for 134 yards and a touchdown on passes within five yards of the line of scrimmage. He also took advantage of the middle of the field, as the image atop this story shows.
Big Ben comes up small
Roethlisberger had a rough go of it against a very stellar Bengals defense.
Roethlisberger completed only two of his first 12 passes that traveled at least 15 yards in the air (he was 2-for-3 on the final drive, with the Bengals in a prevent defense). Roethlisberger had a completion rate of 40 percent on those passes last season.
Steelers Rush Yds By Quarter
Roethlisberger threw 11 incomplete passes of that length. On nine of those 11, he overthrew his intended receiver.
Roethlisberger was 1-for-9 when he was under duress from the Bengals defense. The only completion went for one yard.
The Steelers also failed to maintain the success they had rushing the ball in the first quarter. They had 37 rushing yards in the game's first 15 minutes, and only seven rushing yards the rest of the game.
The Steelers and Cardinals are tied for the longest active streak without rushing for 100 yards (eight games, dating back to last season). That matches the longest streak in Steeelers history, done once in 1933-1934 and again in 1935.
Did You Know?
The Steelers are 0-2 for the fifth time in the last 25 seasons, but they've shown the ability to bounce back from those poor starts. In each of the four other instances, they've finished the season with a winning record. Three of those seasons ended with a playoff spot.