The Texas Rangers and Tampa Bay Rays play the third game of a four-game series at Tropicana Field, this time on "Wednesday Night Baseball" (7 ET on ESPN/WatchESPN). Here are six storylines that could be talked about during the broadcast.
1. Recent slides of varying degrees have caused both the Rangers and Rays to fall from near playoff certainty down into a very heated race for the two wild-card spots in the American League.
The Rangers have gone 3-12 in September (after going 20-7 in August). Combined with last season's 15-16 finish, Texas has the third-lowest winning percentage in the AL in games on Sept. 1 or later over the past two seasons (18-28, .391). Only the Chicago White Sox (17-31, .354) and Seattle Mariners (15-30, .333) are worse.
Tampa, meanwhile, has gone 8-15 after leading the AL East after play on Aug. 24.
2. The teams are currently tied in the standings, each holding a wild-card spot with the Indians lurking just a half-game behind. An Indians win Wednesday night over the Royals would drop the loser of the Rangers-Rays game out of a wild-card spot.
3. Rangers starter Derek Holland looks to turn things around on the mound Wednesday night. He has endured three straight rough outings in September, going 0-3 with a 10.13 ERA.
He's coming off a three-inning start in which he allowed six runs, his shortest start of the season and the second straight start he's allowed at least six runs. Holland has not allowed three or more runs in three straight starts since his rookie season in 2009.
After attempting to develop a curveball in recent seasons, Holland seems to have reduced the emphasis on that pitch and instead has focused on using a much more effective slider.
He's locating his slider down much more often this season and staying away from the middle of the plate.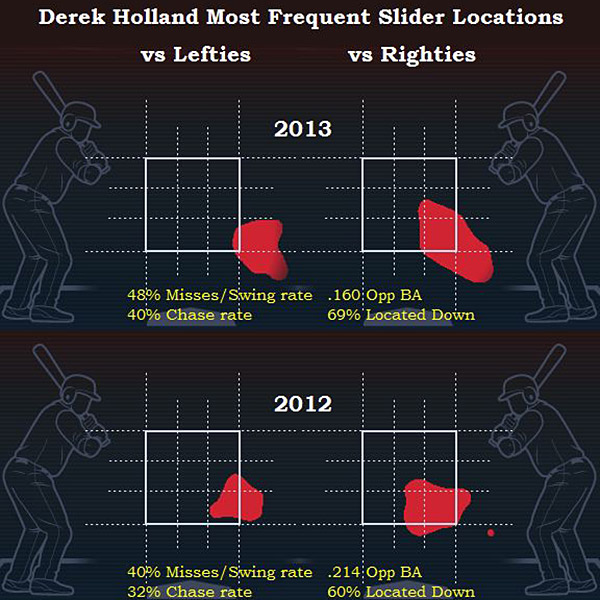 Derek Holland has improved the location of his slider since last season.
4. Wil Myers is heating back up, and that's a good sign for the Rays. He's on a seven-game hit streak and is batting .400 over his past 14 games. The Rays are 37-18 in games Myers has at least one hit (5-16 when he goes hitless).
Fastest Average Fastball
AL This Season
5. If you like hard throwers, this is the game for you.
Among AL pitchers with at least 20 starts this season, Chris Archer (94.9), Wednesday's Rays starter, and Holland (93.5) rank first and second in average fastball velocity.
6. Tuesday night's attendance at Tropicana Field was 10,786. After the game, David Price tweeted: "There's a positive to everything (at least that's the way I view things)...no traffic."
The Rays have averaged an 18,533 attendance at home this season, worst in baseball. By comparison, the Astros have averaged 1,000 more fans per game.
Furthermore, on Monday, the New York Rangers and New Jersey Devils squared off in a preseason hockey game in Newark, N.J., drawing 11,906 fans to the Prudential Center.