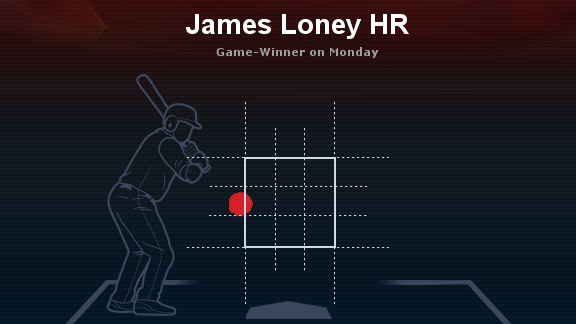 James Loney was able to get around on an inside pitch to win the game for the Rays.
Tampa Bay Rays first baseman James Loney has had quite an offensive turnaround this season.
Powered by an amazing April, Loney has continued the trend of the Rays getting maximum value out of "buy-low' first baseman, a group that includes Loney and one of his predecessors at first base, Casey Kotchman.
That continued on Monday as Loney's pinch-hit walk-off homer powered the Rays to a four-game sweep of the Baltimore Orioles and moved them a step closer to garnering a Wild Card spot.
Inside the At-Bat
Loney hit the home run on an inside fastball, noteworthy because he has struggled mightily against pitches to that area for the last three-and-a-half months.
Loney vs. Inner-Third Pitches
from RHP (2013 Season)
The chart on the right shows Loney's struggles since mid-June on pitches from right-handers that were on the inner-third of the plate or off the inside corner.
The home run against Tommy Hunter was his second career walk-off homer, his first since he hit one in 2010 against the New York Mets.
The Improved Season
Loney entered the day with a .760 OPS this season, a 130-point improvement from how he fared in 2012 for the Dodgers and Red Sox. That made him one of five players who had at least 400 plate appearances last season and this season to have an OPS jump of at least 130 points from 2012 to 2013.
That group is headed by Orioles slugger Chris Davis and also (entering Monday) included Colby Rasmus, Eric Hosmer, and Jhonny Peralta.
Much of that can be attributed to Loney's start to the year. He was hitting .385 with 11 doubles through his first 96 at-bats. He's had a more modest .276/.326/.400 slashline with 12 homers and 17 doubles in 428 at-bats since then.
As we previously noted, Loney's improvement is similar to that of Casey Kotchman, who got off to a great start in 2011. Kotchman's batting average jumped 89 points and his OPS jumped 184 points from the previous year in his lone season with Tampa Bay.
Coming through in a pinch
Loney wasn't the only one to come through in a pinch for the Rays, who got big performances every time they needed it in this sweep.
Jake Odorizzi was given the game ball in Friday's 18-inning win by Evan Longoria after pitching 3⅔ innings of relief in Tampa Bay's win. The Rays' bullpen combined for 22⅔ innings in this series and allowed three runs and 10 hits.
Sunday Enny Romero, who volunteered to pitch via Twitter after Friday's marathon, pitched 4⅔ scoreless innings of one-hit ball in another victory. In Monday's win, Tim Beckham had a hit, a run scored and an RBI filling in at second base.
Those three players had a combined eight games of major-league experience before this series began.