About the ESPN Hot Zone
• Use the dropdowns to select sortable information about the player.
• A color will appear when there are at least five at-bats using the selected criteria.
• Click on the image to receive the averages that correspond with the data.
• The raw data will appear when there are fewer than five at-bats using the selected criteria.
For each of the eight remaining postseason teams, the Stats & Information team will offer a look at a key hitter and use Next-Level data to analyze how he might best be approached by opposing pitchers.
The reigning (and struggling slightly) MVP
Miguel Cabrera may be the most feared hitter of our generation, but various injuries slowed the Tigers slugger during the last month. He put up a .278/.395/.333 line in September after threatening to win his second straight Triple Crown during the first five months of the season.
Miguel Cabrera This Season
The most eye-popping number in his September slashline was his .333 slugging percentage, a drop of more than 300 points from the league-leading .681 mark he put from April to August.
The good news for Tiger fans is that, according to our batted ball-tracking data, Cabrera still pounded the ball this month.
He led the majors in September with 31 percent of his balls in play classified as "hard-hit", a number that is nearly identical to the 30 percent mark that he had in the first five months.
Keep it low and away
Even when Cabrera was the hottest player on this planet in the first five months, he did have a specific weakness: pitches located down and away, from both right-handed and left-handed pitchers.
Cabrera hit .162 and slugged .235 on down-and-away pitches this season, both of which were below the major-league averages of .204 and .258. His biggest issue was making contact – he whiffed more than 40 percent of the time he swung at those pitches.
He compensated for this apparent hole in his swing by rarely taking hacks at down-and-away offerings. His swing rate of 27 percent on those pitches ranked among the lowest in the majors.
Miguel Cabrera by Pitch Location
This Season
Interestingly, during September Cabrera had more trouble squaring up on pitches located on the inner third of the plate (.250 slugging) than on pitches located on the outer third (.429 slugging), though the sample sizes are small.
Aside from those down-and-away pitches, there are also some other specific strategies that right-handed and left-handed pitchers can use to try to contain Cabrera.
Right-hander approach
The best bet for a righty is to locate a slider in the lower-third of the zone or below. Cabrera hit just .200 with only two homers in 50 at-bats ending in sliders to that location this season. But don't miss your spot – he was 18-for-47 with seven homers and three doubles in all other at-bats ending in a slider.
Chicago White Sox right-hander Erik Johnson recently had success with this approach against Cabrera. On September 10, Johnson threw him nine sliders and eight were located at or below the knees. Cabrera struck out on one of those low sliders and put two others in play, resulting in a flyout and a groundball (reached base on an error).
Left-hander approach
Southpaws had some success throwing a curveball to Cabrera this season. It was the only pitch from lefties that produced an OPS under 1.000 by Cabrera (.726 OPS).
Cabrera is susceptible to chasing those pitches, swinging at curveballs out of the zone 44 percent of the time, compared to the league average of 27 percent and his overall rate vs. lefties of 24 percent.
--Katie Sharp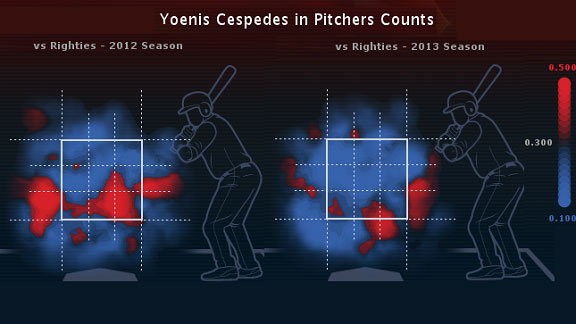 The keys to Cespedes
In his 2012 debut campaign, Yoenis Cespedes hit .292 with an .861 OPS, including 23 HR in only 540 plate appearances. He took a step back in 2013, seeing his batting average drop to .240 and his OPS drop by nearly 130 points to .737. He still displayed his prodigious power, actually hitting home runs at a higher clip, but his approach seemed to erode, with his strikeout rate increasing (19 percent to 24 percent) and his walk rate dropping slightly.
While his sophomore season exposed some flaws, there's no question he retains the ability to change the game with one swing of the bat.
Thus, the question is – how do the Tigers make sure that doesn't happen?
Primary strategy: Stay away
It's all about staying on the outer half and avoiding Cespedes power zone – down and in. In terms of starting pitchers, Cespedes is likely to see a healthy dose of right-handers in the ALDS against the Tigers, and his weakness against righties is clear.
Few righty batters were worse against righty pitchers while in 'pitcher's counts' in 2013 -- Cespedes hit .158 with a .404 OPS in these counts in 2013, with that batting average mark being the third-worst among right-handed batters.
As you can see in the heat map above, Cespedes is vulnerable to pitches on the outer half, particularly after he's down in the count.
Highest Slug Pct
vs Pitches Down/Inner Half
Cespedes hit .139 with a paltry .294 OPS against pitches on the outside against righties once he was down in the count, chasing those pitches out of the zone more often than he did last year, swinging and missing more, and swinging at them more often overall.
Perhaps most telling – Cespedes posted a .202 well-hit average on those pitches in 2012, and just .086 in 2013.
If a pitcher has intentions of getting Cespedes out, he needs to stay away from throwing him pitches down and on the inner half. Few players possess the power that Cespedes has in that zone – Cespedes hit .350 with a 1.061 OPS on pitches down and on the inner half in 2013, and if you limit that to just right-handed pitchers, it gets even better (and an improvement over 2012).
The Tigers game plan for Cespedes should be pretty clear – get ahead and then pound the outer third of the strike zone – and avoid throwing him down and in at all costs.
-- Justin Havens