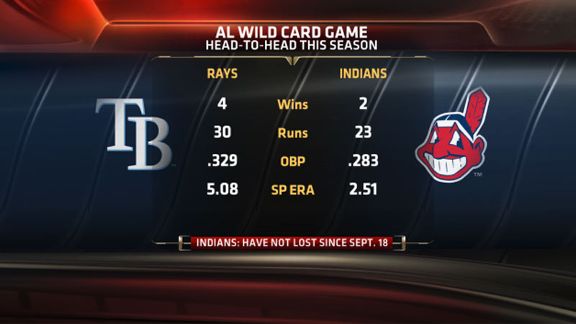 The Tampa Bay Rays and Cleveland Indians, two of the hottest teams in the majors the last two weeks, will go head-to-head tonight in the AL Wild Card Game (8 p.m. ET, ESPN Radio), with the winner advancing to face the Boston Red Sox in the American League Division Series.
The matchup
The Rays won four of the six meetings during the regular season. All six of the games had a similar theme -- one team both pitched and hit great.
Rolling Into Playoffs, Hot Streaks
Each of the six games were decided by four runs or more, with four of the games ending in shutouts (two for each team).
The hitter that fared best for the Indians was Carlos Santana, who was 9-for-22 with a homer and two doubles. He has a .333/.438/.515 slashline in 80 plate appearances against the Rays over the last three seasons, and is 3-for-7 with a walk against Rays starter Alex Cobb.
The Rays best hitter, Evan Longoria, doesn't have a great history in Cleveland. He's hitting .175 with 21 strikeouts in 63 at-bats in his career there, his worst batting average at any American League ballpark. But his teammate Ben Zobrist has been good there. He has a .288/.389/.559 slashline in 72 plate appearances in that park over the same span.
Indians asking a rookie to come up big
The Indians will start Danny Salazar, whose career consists of 10 major-league starts, only one of which involved him throwing 90 pitches or more.
Salazar's strength is his swing-and-miss capability, particularly with a fastball that averages 96 mph, best among AL pitchers who started at least 10 games this season.
Salazar induced misses on 31 percent of the swings against him and struck out 31 percent of the hitters he faced, the second-best rates in the majors in both of those stats (Yu Darvish edged him out).
The one issue that could lead to a brief outing is that 25 percent of the balls that were put in play against him were line drives. That's the highest rate of any pitcher with at least 10 starts in 2013.
Cobb's comeback continues
Cobb missed two months after getting hit in the head with a line drive, but since he's returned to the majors he's been one of baseball's best pitchers.
Cobb is 5-1 with a 2.41 ERA since his return.
The key for Cobb since his return is a curveball that has been an impact pitch.
In his last four starts, Cobb has averaged about 28 curveballs per game. The pitch has netted him 21 outs and yielded only four baserunners.
That could come into play against a hitter like Nick Swisher, who misses offspeed pitches from right-handed pitchers more frequently than any other left-handed hitter.
Defensive players to watch: Yan Gomes and Michael Bourn
Indians catcher Yan Gomes is capable of thwarting any potential baserunning attempts by the Rays. He caught 18 of 47 runners attempting to steal during the regular seasons, a 38 percent caught-stealing rate that ranked third-best in the majors, trailing only Yadier Molina and A.J. Ellis. Gomes also picked off four baserunners, one shy of the major-league lead (Chris Iannetta).
Gomes has also proven himself to be a very capable hitter. He hit .294 with an .826 OPS for the season. The Indians were 51-34 when he started behind the plate, and 41-36 when he didn't.
The other key for the Indians up the middle is whether Michael Bourn, who has been hampered by injuries, starts in centerfield. Bourn has 30 defensive runs saved over the last three seasons (though only three in 2013). His potential replacement, Drew Stubbs, has -5 defensive runs saved in center field in that same time period.
Elias Sports Bureau Stat of the Day
The Indians won 10 straight games to close the regular season. They are the sixth team to win 10 or more in a row to close the season since 1900. But only one of those went on to win the World Series -- the 1970 Baltimore Orioles.