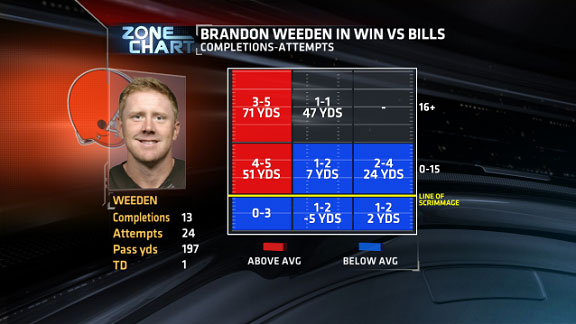 Brandon Weeden was able to make a few needed connections downfield on Thursday.
The Cleveland Browns look like a much different football team than they did the first two weeks of the season.
And at least for one night, Brandon Weeden looked like a much different quarterback.
The image above tells part of the story of Weeden's effort in relief of injured quarterback Brian Hoyer in Thursday's 37-24 victory over the Buffalo Bills. Weeden was more effective than usual on mid-range and longer throws.
In particular, Weeden completed 6 of 9 passes thrown more than 10 yards downfield, including a 37-yard touchdown to Josh Gordon. Entering Thursday night, the Bills had allowed 62 completions more than 10 yards downfield, most in the NFL.
In the two games that led to his benching, Weeden was 10-for-24 on throws of that length.
Weeden completed 78 percent of his passes (7-of-9) when targeting Gordon and Jordan Cameron. Those two have now combined for six of the seven receiving touchdowns for the Browns this season.
Benjamin returns the favor
Travis Benjamin recorded 179 punt-return yards, including his second career punt-return touchdown, in Thursday's win.
Benjamin broke Eric Metcalf's team record for punt-return yards in a game (166). It is the most punt-return yards in a single game by any player since Eddie Drummond had 199 for the Lions in 2004.