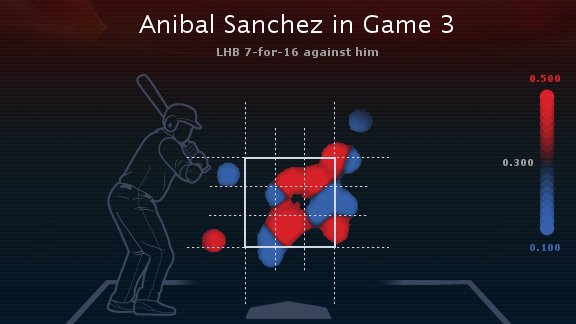 Anibal Sanchez was done in by Oakland's left-handed hitters.
What went wrong for Detroit Tigers starting pitcher Anibal Sanchez in Game 3 of the ALDS?
Sanchez, who posted an AL-best 2.57 ERA this season, was roughed up for six runs and three home runs in 4 1/3 innings pitched. He had allowed a total of seven runs in his previous five starts (over a combined 30 2/3 innings pitched) and did not have a start all season in which he allowed multiple homers.
Pitch Location
Sanchez invited trouble with his pitch location. Of his 101 pitches, 49 were in the upper-half of the strike zone or above. That led to four Athletics hits, including the homers by Brandon Moss and Seth Smith in the 5th inning.
During a typical regular-season start, Sanchez threw about 41 of every 100 pitches to that area.
Unable to finish
The Moss home run was one of two that Sanchez allowed with a two-strike count on Monday (the other being by Josh Reddick.
Sanchez had only allowed three two-strike homers during the regular season and had only one start in which he allowed multiple two-strike homers in his career (August 16, 2011 against the Colorado Rockies) prior to Monday.
An ineffective changeup
One of the reasons that Sanchez pitched so well in the 2012 postseason was that his secondary pitches were very effective. In his ALCS win over the Yankees and World Series start against the Giants, Sanchez had a great changeup, netting 10 outs with the pitch without allowing a hit.
On Monday, Sanchez got eight swings and misses against that pitch, but allowed three hits with it. He paid the price for the hanger he threw Moss, which ended up hooked into the right field bleachers.
Sanchez had allowed only one home run with his changeup in his last 14 starts.
Did you know?
The Tigers had not had a starter allow at least six runs while retiring 13 batters or fewer since June 25, when Rick Porcello got roughed up for seven runs by the Angels.
They only had five such starts all season, tied with the Cardinals for the second fewest in the majors. Only the Rays, with four, had fewer.
Justin Havens also contributed to this post.