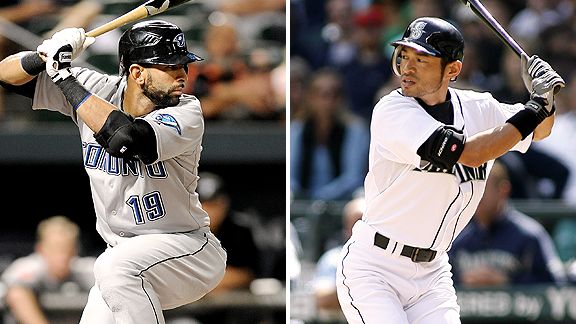 Getty Images
Jose Bautista and Ichiro Suzuki reached significant milestones in the same game on Wednesday.
Go figure that a game between two non-contending teams would make big-time headlines across the baseball universe.
The Mariners-Blue Jays game was a double-milestone affair, with Jose Bautista reaching 50 home runs and Ichiro Suzuki clearing 200 hits yet again. Both accomplishments were of a noteworthy nature and here's what we gleaned from each.
Jose Bautista
• It's the 42nd time a player has hit 50 home runs in a season. The breakdown:
1920-1994 18 instances
1995-2010 24 instances
• He's the 26th different player to hit 50 HR in a season.
(Babe Ruth, Mark McGwire and Sammy Sosa lead the way with four 50-or-more seasons each)
• He's the seventh active player with a 50 HR season.
(the others: Alex Rodriguez, Prince Fielder, David Ortiz, Ryan Howard, Andruw Jones, Jim Thome)
• He's the third Dominican-born player with a 50 HR season (Sammy Sosa and David Ortiz).
• He's the first player named Jose with a 50 HR season (Jose Canseco had the Jose record, 46 in 1998.)
• The Elias Sports Bureau says Bautista is the only player to hit his 50th home run in a 1-0 game. The highest homer total for a player whose homer won a 1-0 game -- 61, by Roger Maris, whose record-breaking home run was the only run in a win over the Red Sox on the final day of the 1961 season.
• Jose Bautista has 43 home runs vs right-handed pitching this season. If you only counted those, he'd have a six-homer lead for the most in the AL and a three-homer lead for most in MLB.
BIGGEST JUMP IN HOME RUNS
FROM CAREER HIGH BY A 50-HR HITTER
• Bautista has 50 home runs and 53 singles. It would take some work, but he could have the fourth season in MLB history with more home runs than singles (at least 50 home runs). Mark McGwire did it twice. Barry Bonds did it once.
• Bautista's previous career-high, a mere 16 home runs. His jump (from one career-high to a 50-homer season) rates among the biggest ever, according to the Elias Sports Bureau.
• Bautista is approaching the total number of home runs he hit in the minor leagues. He had 52 ... in 1,471 at-bats.
• Lastly, through the diligence of our HitTrackerOnline crew, this doozy:
Jose Bautista's 50th home run traveled 372 feet. His longest home run of 2010 came on August 23rd off of Ivan Nova of the New York Yankees (453 feet). His shortest home run of 2010 came one week earlier on August 16th, a 334-foot home run off of Brett Anderson in Oakland. Bautista has averaged 402.86 feet per home run this season, totaling 20,143 feet, or 3.81 miles. That's the equivalent to 11 CN Towers.
Ichiro Suzuki
• Ichiro Suzuki not only reached 200 hits for the 10th time today, tying Pete Rose's all-time record, he further chased down the all-time major league hits leaders.
Most Career Hits
Combined MLB/Japan
• The most consecutive seasons with 200 hits: Ichiro Suzuki (10), Willie Keeler (8), Wade Boggs (7).
• Ichiro has 10 seasons with 200 hits. Only two other Mariners have had at least one such season: Alex Rodriguez (2) and Bret Boone (1).
• Ichiro has 10 seasons with 200+ hits. The team his Mariners faced today, the Blue Jays, has a total of five seasons with 200+ hits.
• Ichiro has 10 seasons with 200+ hits since 2001. The following teams have yet to have one since 2001: White Sox, Indians, Royals, Twins, Astros, Rays, Diamondbacks, Braves, and Reds.
• The most 200 Hit Seasons since 2001- Ichiro Suzuki (10), Michael Young (5), Derek Jeter (4), Juan Pierre (4), Miguel Tejada (3), Vladimir Guerrero (3).