No. 10 Arkansas has four wins all-time against top-rated football teams, and it will get a crack at its fifth at 3:30 ET on Saturday afternoon when it hosts Alabama. Here's a look at some of the statistically significant storylines that will come into play for the weekend's marquee matchup, with the help of the folks who do our weekly video review work.
Greg McElroy Passing in the Red Zone
In 2009, Alabama's offense scored a touchdown on just 47.5 percent of its red zone trips, ranking the offense 108th in the nation. Quarterback Greg McElroy encountered struggles of his own in the red zone last season, mustering only a 35.0 percent completion rate, sixth-worst in the FBS. So far in 2010, it appears McElroy has turned the page on last season's struggles, and is poised to be a better red zone passer.
BRINGING BACK THE PISTOL
Trent Richardson and Mark Ingram are running wild out of the pistol formation this season. (In the pistol offense, the quarterback is not under center, but also closer to the center than a traditional shotgun snap. The running back then lines up behind the quarterback).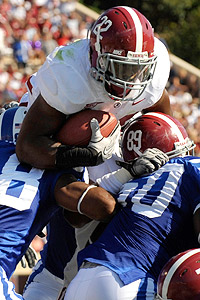 Sara D. Davis/AP
Mark Ingram and Trent Richardson have found multiple ways to be effective so far in 2010.
Ingram and Richardson have averaged 11.8 yards per rush, with seven rushes of 15 yards or more, in the 28 times they've run via the pistol. They've averaged just under five yards per carry in the 20 runs from other formations.
ALABAMA'S BACKS ARE PHYSICAL
Arkansas' ability to wrap up and tackle will be a major factor in its ability to stop the Alabama running game. Both Ingram and Richardson have gained almost half of their yards this season after contact with a defender. Of their 422 total rushing yards, 195 (46 percent) came after contact.
RAZORBACKS RELY ON PLAY-ACTION
It will be important for Arkansas to establish a running attack early in the game so that Ryan Mallett can use a run fake to set up his downfield passes. He's 7-for-10 throwing the ball 15 yards or longer on play-action, but just 5-for-15 throwing it that long without play action.
Mallett led all FBS quarterbacks with 32 completions of 30 or more yards in 2009. He's off to the races again this season with nine such completions already.
TIDE MAKING BIG GAINS
Alabama's offense is off to a roaring start in 2010. Alabama has more big plays this season than any other offense and has them more frequently than any other team.
Alabama has 24 plays of 20 or more yards and has gained at least 20 yards on 12.6 percent of its offensive plays, both best in the nation. McElroy's pass attempts have gained at least 20 yards 21.7 percent of the time, which leads the FBS.