AP Photo/AJ Mast
Andrew Luck threw 3 touchdowns and ran for 1 to hand the Broncos their first loss of the season
As a reminder, Total QBR is a quarterback rating that takes into account all of a QB's significant contributions (passing, rushing, sacks, fumbles, penalties) to his team's scoring and winning and summarizes them into one number on a 0-100 scale, where 50 is average. Since 2008, the team with the higher QBR has won about 85 percent of the time. Complete QBR statistics for all quarterbacks can be found here.
Luck outshines Manning in his return to Indy
Andrew Luck had a higher total QBR than Peyton Manning on Sunday, posting his second career game with four combined passing/rushing touchdowns. Manning was hurt by four sacks (most in a game since Week 12 in 2007), including the second-quarter safety that dropped his Total QBR from 98.4 to 87.3. His fourth-quarter interception dropped his Total QBR from 62.2 to 44.4.
Week 7 Offense
Luck's ability with his legs played a big role in the Colts win. Luck scrambled three times for 30 yards and a touchdown. He leads the NFL with four touchdowns on scrambles since the start of the 2012 season.
Only Cam Newton has more first-down scrambles on third down than Luck's 15 since the start of last season.
Luck has 438 rushing yards and 8 rushing touchdowns in 23 career starts. Peyton Manning has 705 rushing yards and 18 rushing touchdowns in 231 career starts.
Kaepernick's efficient performance
Highest Single-Game Total QBR
This Season
Colin Kaepernick had a 99.0 Total QBR against the Titans Sunday, the best by any quarterback in a game this season (min. 20 action plays).
The 49ers jumped out to a 24-0 lead with 7:20 left in the third quarter. At that point their win probability was at 98.7 percent, and never dropped below 94.9 percent.
Up to that point he completed 11-of-13 passes for 163 yards, including 5-of-5 for 87 yards on third down, with four first-down conversions. He converted three times on four third-down runs, including a 20-yard touchdown run when the game was within three points, and a 20-yard scramble on 3rd and 11.
At the end of the 3rd quarter Kaepernick had a 99.7 Total QBR on 27 action plays as the 49ers led 24-0 and had a win probability of 98.9 percent. His fourth-quarter Total QBR was 0.3 on six action plays, and only brought his Total QBR down 0.7 with the game in hand.
Also, for the game he had three negative plays (excluding kneel downs) for a combined minus-four yards, and zero turnovers.
Quick hitters
Cam Newton has posted a 89.4 Total QBR in his last 2 games after recording a 33.9 Total QBR through his first four games. He has completed at least 75 percent of his passes in each of his last two games, the first time in his career he's accomplished that in consecutive games.
Brandon Weeden had a 10.0 Total QBR against the Packers, his worst in a game this season. Only Blaine Gabbert has a lower Total QBR this season, than Weeden's 24.9, among qualified quarterbacks. Weeden was 2-of-11 passing in the first quarter with six off-target passes.
Nick Foles posted a 7.5 Total QBR after consecutive games with a Total QBR over 80.0. He completed 0-of-8 passes on throws at least 15 yards downfield after entering the game 7-of-12 on such passes this season.
Josh McCown's 94.8 Total QBR Sunday was the highest among any quarterback to come off the bench in a game over the last four seasons. It was also the highest Total QBR in a loss over that same span.
Andy Dalton's 92.8 Total QBR against the Lions was the second-highest in his career. Dalton was 6-of-7 (85.7 percent) on passes of at least 15 yards downfield on Sunday, tied for his most completions on such throws in a game in his career.
Robert Griffin III had a Total QBR of 91.8 Sunday, his highest Total QBR in a game this season. Entering Week 7, his best Total QBR in a game was 43.0.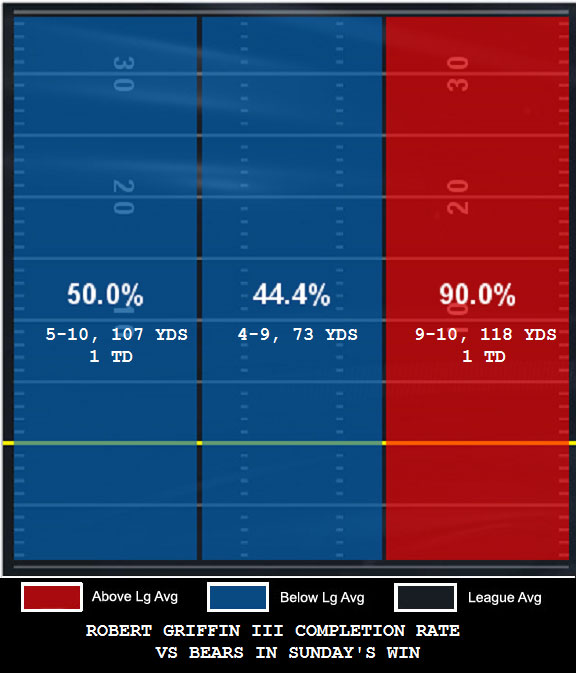 ESPN Stats & Information
Robert Griffin III was extremely efficient throwing to the right side of the field