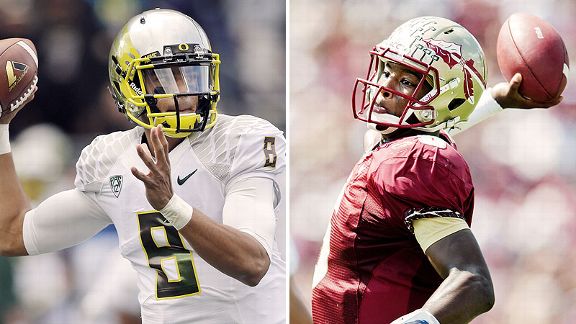 AP Photo, Getty Images
Marcus Mariota and Jameis Winston have been nearly flawless in 2013.With his dominant performance against Clemson, Jameis Winston has jumped into Heisman contention.
In the latest ESPN Heisman Watch, Winston and Marcus Mariota are the top two Heisman candidates.
After eight weeks, who deserves to win the Heisman?
Why Mariota should win the Heisman
Oregon quarterback Marcus Mariota is averaging 363 yards of total offense and has accounted for 28 touchdowns this season. He ranks in the top five of most statistical categories without even attempting a pass in the fourth quarter in five of Oregon's seven games.
Opponent-Adjusted Total QBR
2013 Leaders
Mariota is a threat on the ground and through the air; he is the only player in the FBS that is averaging at least 10 yards per rush and 10 yards per pass attempt. Similarly, he is the only player that has at least 15 pass touchdowns and seven rush touchdowns.
When passing the ball, Mariota does not turn the ball over. He has an FBS-high 197 pass attempts without an interception. In comparison, Winston has thrown three interceptions in 157 attempts. Dating back to last season, Mariota has thrown a Pac-12-record 265 passes without an interception.
When running, Mariota implements the zone read to perfection. The Ducks have called a zone-read play on 56% of their carries and have averaged 7.5 yards per rush on such plays. When Mariota keeps the ball, Oregon averages 13.7 yards per rush and has six touchdowns. It is unfair to compare Winston to Mariota on this type of play because Florida State rarely runs a zone read. However, it is important to note that Winston is averaging 3.1 yards per rush and has three rush touchdowns compared to 10.1 yards per rush and nine rush touchdowns for Mariota.
As a result of his offensive efficiency noted above, Mariota leads the nation in opponent-adjusted QBR (96.6). The leader in opponent-adjusted QBR in three of the last six seasons went on to win the Heisman, including Johnny Manziel last year.
-Sharon Katz
Why Winston should win the Heisman
Heisman winners generally play well in their teams' most important games, and Jameis Winston has had his two best games of the season against top-25 opponents.
Against No. 3 Clemson and No. 25 Maryland, Winston averaged 418.5 pass yards per game and accounted for nine total touchdowns. Florida State won by a combined 100 points in those games.
Throws of 20+ Yards
This Season
He is averaging 380.8 pass yards in four career ACC games with 16 touchdowns and two interceptions. He is the first player in the last 10 seasons to pass for at least 300 yards and three touchdowns in each of his first four conference games.
Winston makes crowd-pleasing plays. He averages 5.7 completions per game of at least 20 yards, the fourth most in the FBS. He completes an AQ-high 61.8 percent of his passes thrown 20 yards or longer. That is about 12 percentage points higher than Mariota and at least 11 percentage points higher than each of the last three Heisman winners during their Heisman-winning seasons.
Winston also does not get rattled by pressure. He is completing 71.2 percent of his passes when opponents send five or more pass rushers, the fourth-highest percentage among BCS AQ quarterbacks. Winston ranks second among AQ quarterbacks in yards per attempt (12.5) and touchdowns (9) on passes against the blitz.
-- Rob Nelson
These quarterbacks will have several chances to separate themselves the rest of the season. Mariota will face back-to-back top-15 opponents as Oregon faces No. 12 UCLA and No. 6 Stanford in its next two games. Winston will take on North Carolina State, which handed the Seminoles their first loss of the season last year, followed by No. 7 Miami.