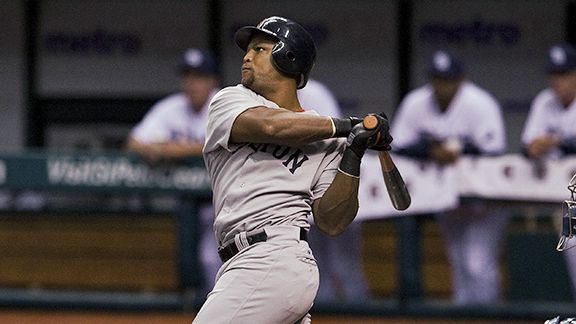 AP Photo/Steve Nesius
Adrian Beltre has carried the Red Sox this season, except when facing the Yankees.
Adrian Beltre is due.
The Red Sox MVP candidate is just 1-for-10 in the first two games of this series with the Yankees, both of which the Red Sox won in spite of his lack of production. He'll get one more crack at them, and a nemesis in Phil Hughes (against whom he's 1-for-12 in his career) at 8 p.m. ET on Sunday Night Baseball.
Beltre is hitting just .228 without a home run against the Yankees this season and he's displayed considerably worse power against them than any other opponent.
Adrian Beltre, This Season
Beltre's slugging percentage against the Yankees is a meager .316. The only other team against whom he's slugging below .400 against this season is the Royals, .375.
How have the Yankees succeeded against Beltre this season? Perhaps there's been a little luck involved.
According to our Inside Edge video tracking, the Yankees have thrown 40 pitches to Beltre this season that were in a good spot for him -- midway up height-wise (think waist-high to letter-high), 37 of which were in the strike zone.
On those 37 pitches, Beltre has just one hit, a single, and has made 13 outs (three strikeouts, seven groundouts and six flyouts).
Against the rest of baseball, a mid-level pitch in the strike zone is one that Beltre (as well as most big leaguers), crushes. He's hitting .396 with a 1.220 OPS against every other team except the Yankees, when thrown a pitch in the strike zone to that height.
The Yankees have gotten a 50-50 split between Beltre's ground balls and fly balls when they throw a pitch to that height and that's very unusual. Against every other team, when thrown a mid-level pitch in the strike zone, Beltre hits the ball in the air 71 percent of the time. That's how he's hit 16 of his 28 home runs.
That's not to say that the Yankees haven't been smart about facing Beltre. Beltre's one weakness on pitches of mid-level height in 2010 has been against sliders and the Yankees have gotten him out five times with those, without yielding a base hit. They've come with sliders to that location more frequently than other teams, and found the payoff to be worthwhile.
The Beltre-Moseley matchup is one to watch when you're checking out the Yankees and Red Sox tonight. Here are a few other things to check out as the Red Sox go for their first September sweep of the Yankees since 1999:
• Will Moseley be able to break the Yankees starting pitchers out of their current rut? During this 6-13 stretch that the Yankees are in, their starters are a combined 2-9 with a 5.55 ERA. Their bats, outside of Alex Rodriguez and Derek Jeter, haven't been much better, hitting .247 and slugging .393, while averaging 4.4 runs per game.
• With that in mind, can Rodriguez handle Daisuke Matsuzaka? Of the 135 pitchers that Rodriguez has faced at least 20 times, Rodriguez's .105 batting average against Matsuzaka rates third-worst. He's just 2-for-19 against him.
• Would Terry Francona go to Daniel Bard for a third straight day if the situation dictates it in the late innings? Bard has pitched in both games of this series, more effectively on Friday than Saturday, but he's always a major weapon in the Boston bullpen. Bard has only pitched on three straight days once this season, May 17-19. But with the Red Sox on the fringe of this wild card race, overuse may not be a concern.