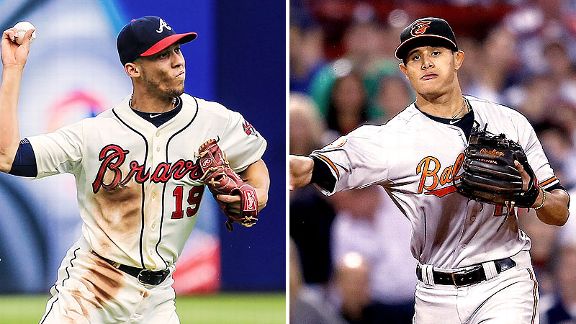 Jim Rogash/Getty Images
Andrelton Simmons and Manny Machado are among the favorites to win Gold Gloves tonight.The Rawlings Gold Glove Awards will be handed out at 8 p.m. ET on ESPN2. Here are some of the top statistical storylines that Adnan Virk and Nomar Garciaparra will be talking about during the broadcast.
A new generation of defensive stars
If the winners match up with the advanced defensive stats, a number of young players will be taking home some hardware.
Of the eight players with at least 20 defensive runs saved at their respective positions, five were in either their first or second major league season and four are finalists (the exception being Mets center fielder Juan Lagares).
Braves shortstop Andrelton Simmons tied Diamondbacks outfielder Gerardo Parra for the major league lead with 41 defensive runs saved, the most by a player in a single season in the 11-year history of the stat.
Second-year third baseman Manny Machado of the Orioles was not far behind, leading all players at his position with 35 defensive runs saved; he also led the majors in Web Gems. In the National League, Rockies rookie Nolan Arenado led third basemen with 30 defensive runs saved.
Pirates left fielder Starling Marte had 20 defensive runs saved, the most for anyone at that position. He'll be competing with past winner Carlos Gonzalez of the Rockies and former Rockies utility man, Eric Young Jr. of the Mets.
Royals, Diamondbacks best of the best
The Royals and Diamondbacks were the top two teams in defensive runs saved and each had significant individual success, as well.
The Royals have five finalists, three of whom led the American League in defensive runs saved at their respective positions: Salvador Perez at catcher, Lorenzo Cain in center field and Alex Gordon in left field. Their other nominees are first baseman Eric Hosmer and shortstop (and Web Gem regular) Alcides Escobar.
The Diamondbacks had three players earn finalist honors: Parra, as previously mentioned, tied the record for most defensive runs saved in a season as an outfielder. Paul Goldschmidt had the second-most defensive runs saved among first basemen, and Patrick Corbin had the most among any pitcher.
Another one for Molina?
Yadier Molina has won five straight Gold Gloves and will contend with Pirates catcher Russell Martin and Dodgers catcher A.J. Ellis for a sixth.
Only four catchers have won at least six Gold Gloves -- Ivan Rodriguez (13), Johnny Bench (10), Bob Boone (seven) and Jim Sundberg (six).
Molina's current streak is the best for an NL catcher since Bench won 10 in a row from 1968 to 1977.
Two other finalists will be vying for their fifth Gold Glove -- Blue Jays pitcher Mark Buehrle (who is competing with teammate R.A. Dickey and Tigers pitcher Doug Fister) and Adrian Beltre of the Rangers, who goes up against Machado and Evan Longoria.
A new statistical component
Rawlings introduced a new statistical component, SDI (SABR Defensive Index), to account for approximately 25 percent of the vote (the rest of the votes are from major league coaches and managers).
The SDI combines five advanced defensive metrics (including the one ESPN uses most frequently, defensive runs saved) that evaluate a fielder's ability to convert batted balls into outs and make other plays (such as convert double plays and deter baserunner advancement) relative to others at his position.