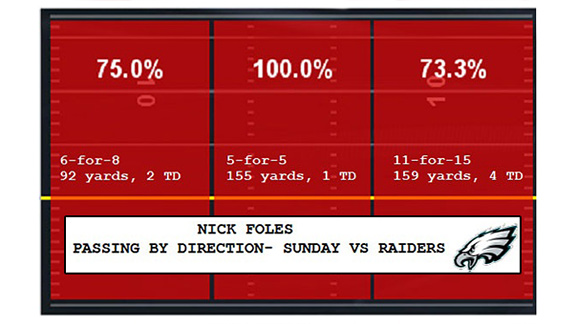 It has been 59 days since Peyton Manning threw seven touchdown passes, and given the rarity of that feat, it seemed unlikely that it would happen again in the near-future.
If you were trying to guess which current quarterback would be the next to throw for seven touchdowns, you probably would have gone a long way down the list before coming to Eagles quarterback Nick Foles.
But on Sunday, Foles joined the historic group in a win over the Oakland Raiders.
Historical perspective
Seven quarterbacks have had seven touchdown passes in an NFL game. This is the first season in which two quarterbacks (Manning and Foles) have thrown seven in a game.
7 TD Passes in Game - NFL History
Manning was the first to throw for seven touchdowns in 16,048 days (43 years, 11 months, 8 days). Joe Kapp of the Minnesota Vikings was the last to do it before Manning, on Sept. 28, 1969.
Foles became the third quarterback to throw seven touchdown passes in a game without throwing an interception, joining Y.A. Tittle (1962 New York Giants) and Manning.
He's also the third to throw seven in a road game, joining Sid Luckman (1943 Chicago Bears, the first quarterback with seven in a game) and Adrian Burk (1954 Eagles).
Foles has 13 touchown passes and no interceptions this season. The NFL record for most touchdown passes before a quarterback's first interception is 20, set by Manning earlier this season.
The Elias Sports Bureau notes that only three other quarterbacks had a run longer than 13 -- Manning, Milt Plum (16 for the 1960 Cleveland Browns) and Don Meredith (14 for the 1966 Dallas Cowboys).
Elias also shared that Foles is the first player in NFL history to throw for seven touchdowns in the first three quarters of a game.
How he dominated
Foles completed 8 of 10 throws that traveled at least 15 yards downfield for 256 yards and four touchdowns. The Raiders entered Sunday having allowed only one touchdown pass on throws at least 15 yards downfield in seven games this season.
It didn't matter how Oakland tried to pressure Foles. Nothing worked.
Inside The 7 TD Passes
Foles completed 17 of 22 passes for 357 yards against standard pressure, throwing as many touchdowns (four) as he had off-target passes.
Foles finished 5-of-6 for 49 yards and three touchdowns against blitzes, with his only incompletion coming on a Jason Avant drop.
This was the second time the Raiders have allowed seven touchdown passes in a game. The other time was on Nov 22, 1981 against the Chargers, when Dan Fouts threw for six and running back Chuck Muncie threw for one.
Seasonal context
Foles had a 99.1 Total QBR, a mark only surpassed by one performance this season: Colin Kaepernick. Foles had the best Total QBR by an Eagles quarterback since Michael Vick's performance on Monday Night Football against the Redskins in 2010 (99.8).
Foles entered the day with six touchdown passes this season. He totaled six touchdowns in seven games last season.
The seven touchdowns matched the number of offensive touchdowns the Jaguars have this season. Foles had more touchdown throws in this game than either the Jaguars or Vikings have had this season. His seven touchdown passes matched the total thrown by the Raiders in 2013.
The seven touchdowns came on 28 passes attempts. Chad Henne has less than half as many touchdown passes this season (three) on 218 pass attempts.
Foles had more touchdown passes in this game than he had incompletions (six).
His seven touchdowns were also one more than the number of outs David Ortiz made for the Red Sox in the 2013 World Series.